Lunch at a vegetarian restaurant
Today, in the late afternoon, Esme, Alice and I went out for lunch. Last week we wanted to go to the vegetarian restaurant "behind" the nearby park - Parque de los Berros - but decided to visit Esme's mother instead.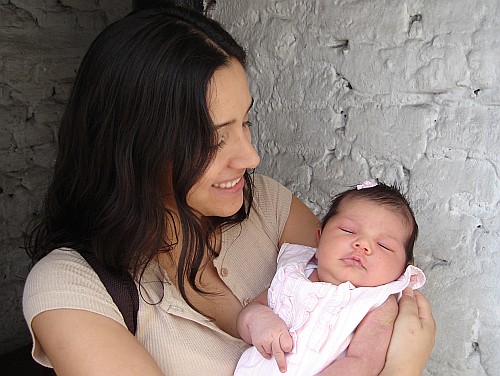 I asked Esme to stand in the door opening of our house - actually the entry to the small tower with the stairs up to our apartment - and took a few photos of her holding our baby daughter. Alice was wearing her pink dress and looked lovely.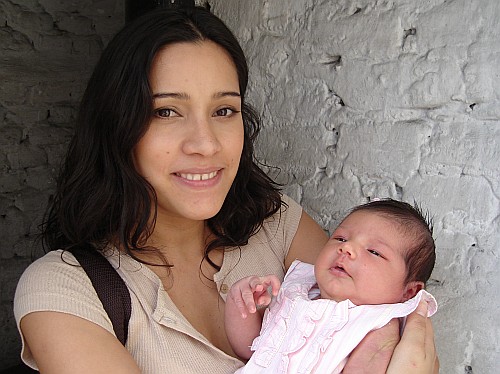 We crossed the street fast in order to get into the shadow and walked into the direction of the park. Since the vegetarian restaurant is behind "Parque de los Berros" Esme suggested that we walked down a small street to get there and so we did.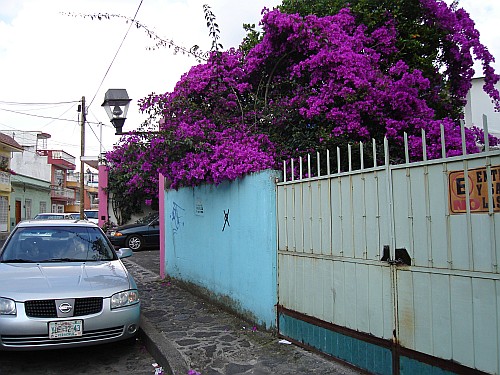 One of the houses to the left of the small street had a tree with beautiful purple flowers. I love this tree a lot and as soon as we have a house with a garden I want at least one of those trees in the garden.
After a short walk we arrived at the vegetarian restaurant. Esme asked me if I wanted to eat first so she could hold Alice and when I was finished I could return the favor. And so we did. The lunch consisted of soup and a small dish with a fruit salad, followed by the main course: a salad with rice and what looked like the patty of a veggie burger - don't ask me why vegetarians eat something that looks like meat and tastes somewhat similar to it.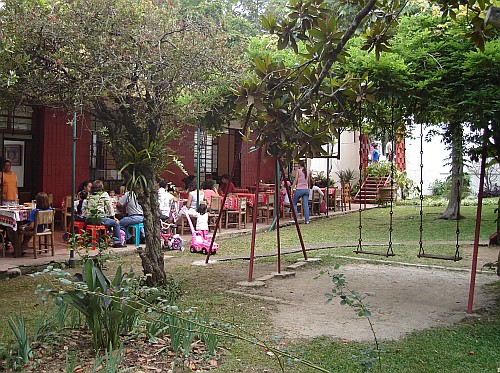 The vegetarian restaurant looks very nice and has a nice big garden with a swing set and a slide. After we had finished our lunch - 30 pesos each - I walked to the back of the garden and took a few photos. When I returned to Esme and our baby daughter Alice the sky got quite dark and we decided to leave. Esme had already paid the bill and when the waitress returned with the change I left the coins as a tip.
We walked back to the house through the Parque de los Berros. Shortly after we had arrived back at our house it started to rain.
Also today