Cactuses and scorpions near Ajalpan
Today I turned 40, which somehow wasn't as scary as turning 30, ten years ago. Yesterday I had somehow already decided that today we would go to the town of Ajalpan, close to Tehuacán.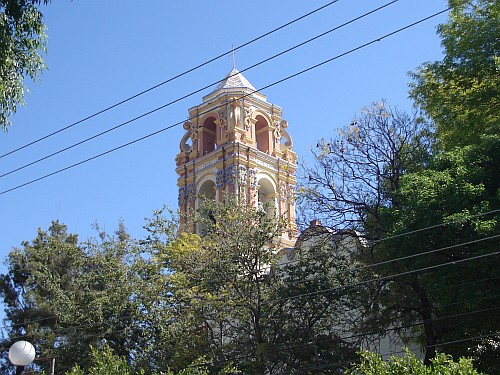 When we left hotel Monroy we walked in the direction of the park. Last night we had found several places to eat all close to each other. The morning air was still a bit cold despite the abundant sunshine. On our way I took a photo of the church located close to the hotel. After looking around a bit we decided to give the buffet, 50 pesos each, at "Sabores" a try. There was plenty of food to choose from but we mostly limited ourselves to fruit and hot cakes.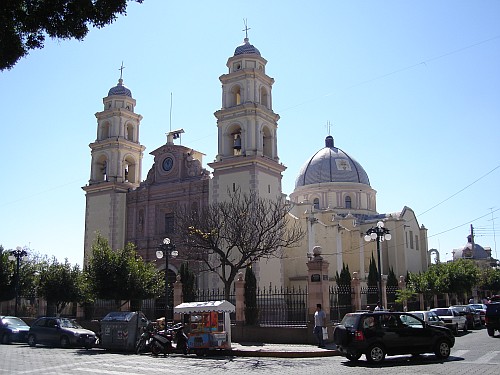 After breakfast we looked around a bit and asked for directions to a bus stop where we could take a bus to Ajalpan. On our way we noticed Chedraui and bought drinks and, very important, sun block. The latter was a bit hard to find but we finally decided that Banana Boat Baby Block (FPS 50) would be sufficient to protect us out in the open.
We found the bus stop and after quite a wait the bus finally arrived. On our way to Aljapan Esme got sick and a little later had to throw up in the plastic bag we had with us. We both guessed that the heavy travelling we had done yesterday, or the breakfast, or the combination of both had been the main cause.
She slowly felt a bit better, and we both looked outside the window of the bus. A very dry landscape with trees and cactuses here and there. In the distance the the Sierra Madre de Oaxaca, which is the name of the mountain range which starts at the Pico de Orizaba and runs to the isthmus of Tehuantepec.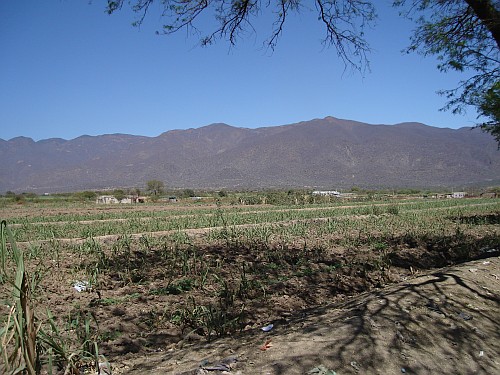 When we finally left the bus we followed a street in northern direction. After a short walk we came up a field and a dirt road parallel to it. We followed the dirt road in north-east direction. We saw a lot of young school children coming towards us. Since it was just after 1 PM we guessed that it was lunchtime. When we arrived at a crossing we decided to follow the road again in northern direction through the fields. A lot of children were walking in the same direction, which would bring us eventually closer to the foothills we saw in the distance.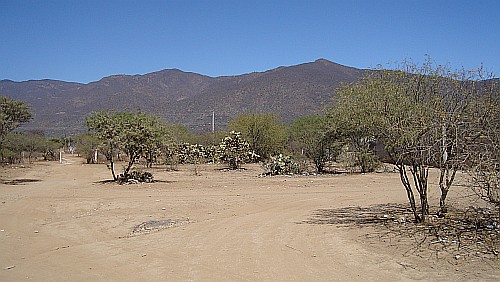 It was very hot. The children probably were used to the heat because they walked twice as fast as us. After some time we took a short break under a tree. I looked under some stones, but no scorpions. Shortly after we had continued our walk Esme saw a small dust devil and before I knew it the dust devil hit me. It was a small one and in a way it was funny.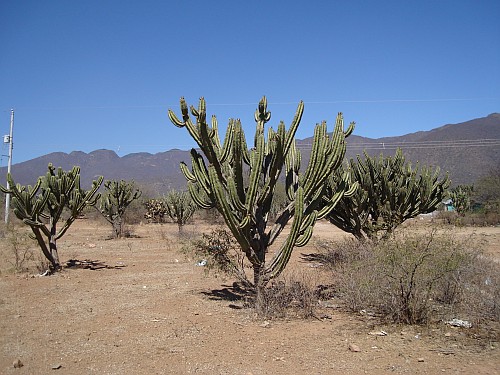 Shortly after we reached a small town. The landscape looked more dry, and the ground had a reddish color. We decided to keep walking into the general direction of the foothills/mountain range. We saw more and more very large cactuses. Some had bright yellow flowers.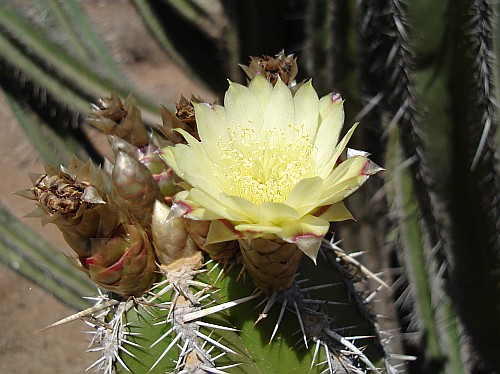 We left the small town behind us and entered an area with large cactuses and almost devoid of shrubs and undergrowth. The latter had probably been removed by the people living in the small town. After a while we came up on a barren area. I looked under several stones but no scorpions. I did scare a small lizard resting under a stone though. It made a mad dash for another hiding place and was clearly not interested in having its photo taken by me.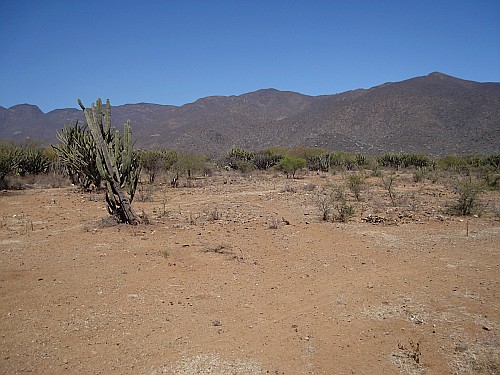 Here and there we saw small piles of cactus parts (Opuntia species) recovering from being cut into pieces by a machete. Some already had big beautiful yellow flowers, a color almost painful to the eye in the bright sunlight. We left the open area and soon walked between very tall cactuses again. Esme got tired and we decided to rest in the shadow of a large cactus with a few smaller ones nearby providing some additional shadow.
There was a large boulder standing upright in the shadow. Esme asked if I could turn it horizontal so we both could sit in the shadow on top of it. When I moved the stone - did I hear "happy birthday" softly playing in the background - I noticed two scorpions on the soil I just uncovered. A large one that looked like a Vaejovis species, and a smaller one.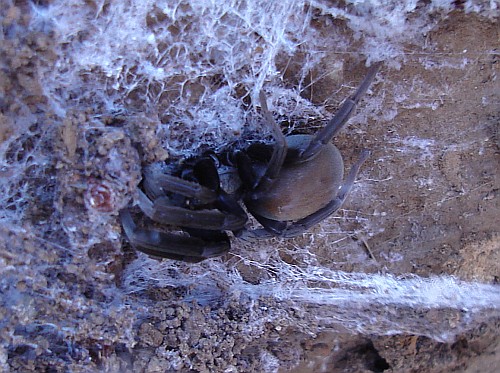 On the underside of the stone I noticed a small tarantula. It looked like it belonged to the same species as the small tarantula spider I keep as a pet. I took a few photos of the spider first. In the mean time the scorpions had moved away from the exposed area.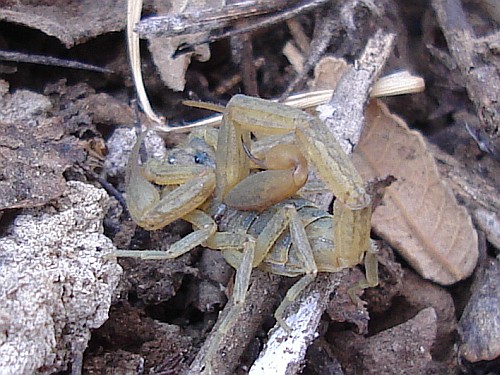 I left the boulder standing in it's new position and flipped some smaller stones over. Under one I found a nice yellow colored Centruroides species. Based on the elongated tail segments there was no doubt that this was a male. Upon closer examination I noticed that the small scorpion was missing the moveable finger of its right pincer.
Read the next part of this blog entry in Scorpions and Cactuses near Ajalpan
Also today