Hierba Buena?
Read the previous part of this blog entry in The green butterfly.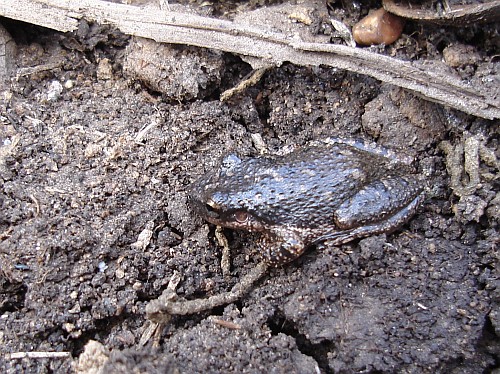 After a short walk we reached the hills, and there was a road going up one hill. Esme and I decided to follow that road, after we had a short break in the shadow of a tree. While we were resting, three guys walked up the road, and when they passed us, they asked if we wanted to see hierba buena. At first we both thought they were talking about good weed (cannabis), but it soond turned out that there was a small village nearby called Hierbabuena (which means Spearmint, Mentha spicata, also known as Mentha viridis).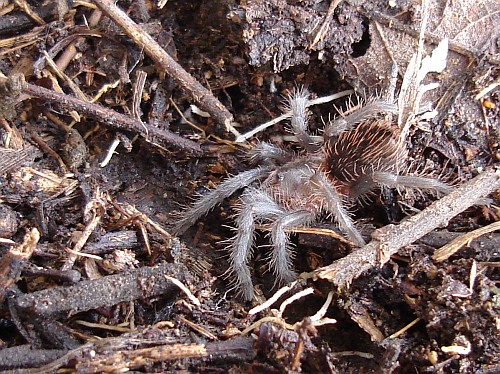 Esme asked if we could take a bus going back to Xalapa from Hierbabuena. They told us that we couldn't take a bus from the small town, but a short walk from the town was the main road with a bus stop. So we decided to walk to Hierbabuena and then then main road after our break.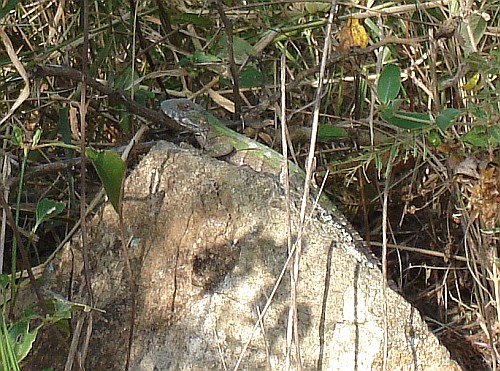 So after our break we followed the road further up the hill. There were plenty of stones to the side of the road, so I checked under a few of them. We found a small frog hiding under one stone, and on a few occassions a juvenile Brachypelma vagans (Mexican red-rump tarantula).
When I looked under a large stone at the side of the road, suddenly a large green iguana appeared to the left of me, and ran under the stone I had just lifted. Esme moved to have a better look, and scared the big lizard. It ran just a short distance away from us, and climbed on a stone to keep an eye on us.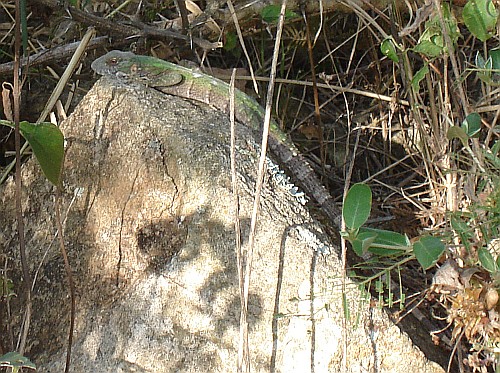 I carefully tried to get closer to the animal, but it disappeared between high grass before I could get close enough to take a good picture. This was the first time we saw a green iguana in the wild. I was now quite sure that the "walking snake" I had seen earlier today also had been an iguana.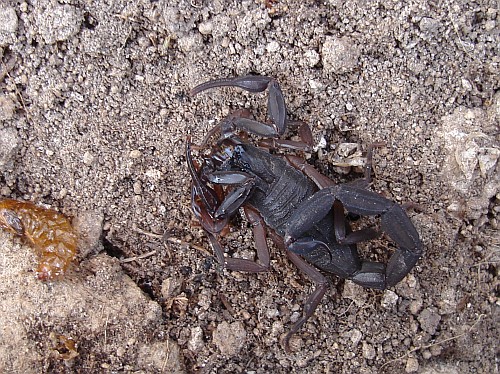 Under a stone, not far from where we had seen the green iguana, I found a scorpion (Centruroides gracilis). I watched the animal when it continued grooming itself like nothing had happened.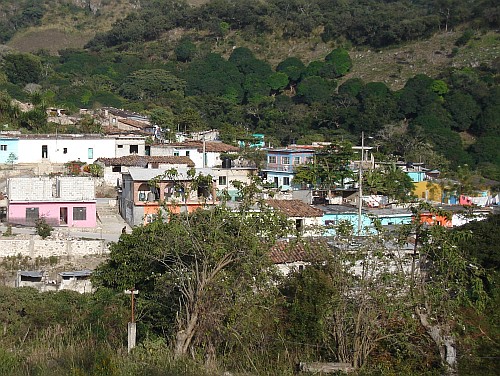 After I had put carefully the stone back in its place, we continued our walk. And then we saw the small village of Hierbabuena in front of us. Behind the village, from our point of view, we saw many mango trees.
We kept the village to our right. Esme asked someone for directions and the reply was that if we just kept following the road we would end at the bus stop near the main road.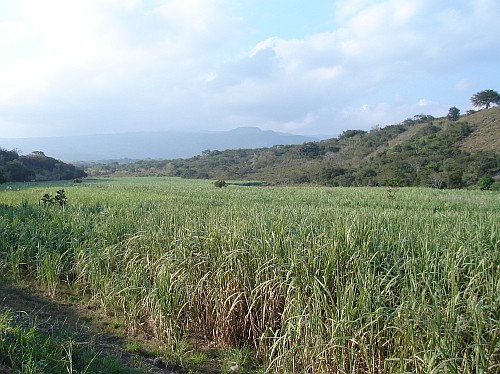 Soon enough we left the village of Hierbabuena behind us, and saw a "sea of sugarcane" to our right bordered by hills, and hills close to our left, providing us with some shadow due to the low position of the sun.
To the right side of the road there was a Carica papaya growing with a lot of fruit, and several small white flowers. While I took a few photos I could smell faintly the flowers.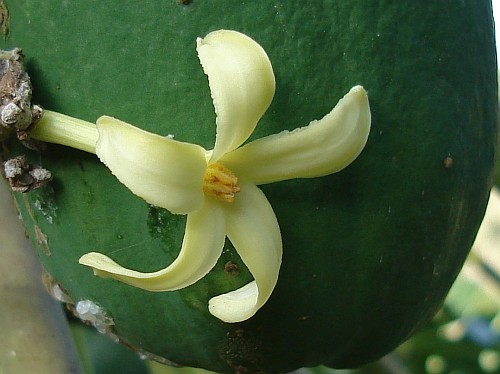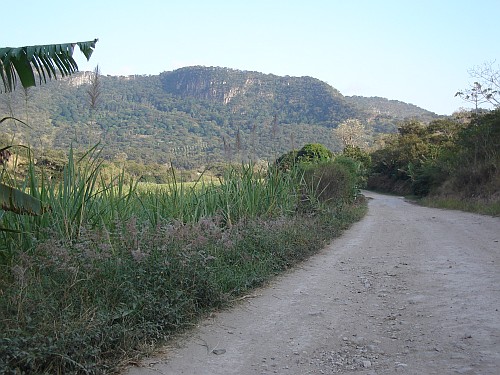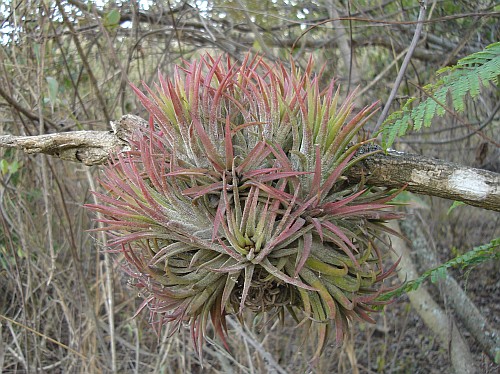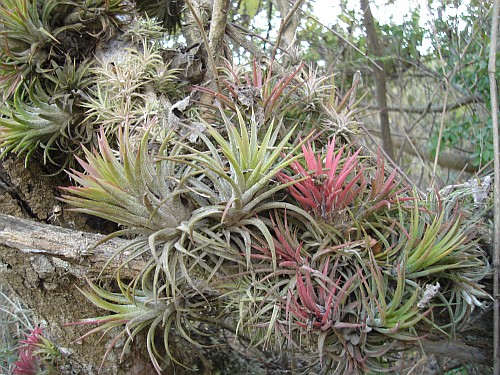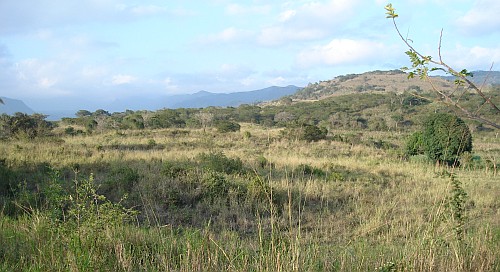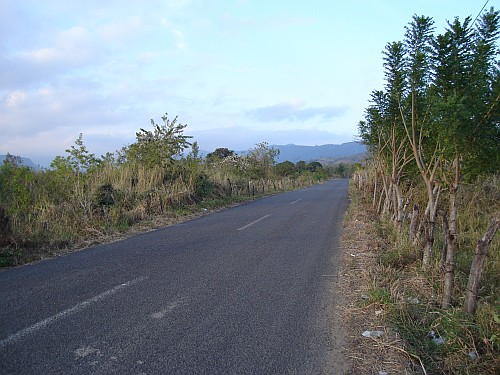 Also today