Xara Xtreme Pro is severely crippled
Today I received an email by Xara, a final reminder that their special offer upgrade offer from Xara Xtreme to Xtreme Pro ends tomorrow, 12th December 2006. Since I am a long time user of Xara, and really love this program, and about a year ago I bought Xtreme.
However, Xara Xtreme had however an issues with limited user accounts, an issue I reported by email to Xara back in December 2005, and to which I got the following reply:
Xtreme needs to be installed and run in an account with Administrator privileges - although you are right in saying this is not the ideal way to run things, hopefully it will be resolved in a future version.
Not the ideal way, one can say that again. I was amazed that there are developers out there that take themselves serious but don't at least try software with limited user account settings. Personally I don't develop with Administrator rights unless this is an absolute requirement. And in that extreme case I use a virtual machine.
Anyway, when I read the new features of Xara Xtreme Pro, especially the multi page one, and improved text options, I couldn't resist and paid by credit card for an update hoping that this issue got finally fixed in the Pro version of Xara Xtreme.
After the download had finished I selected XaraXtremeProDL.exe and in the context menu (right mouse button) selected "Run as..." in order to install the program with (sufficient) Administrator rights. However, when I wanted to register the program reported too fast that it couldn't connect. One advantage of a slow Internet connection is that one gets a feeling how much time things take, and there was no way that the program could have connected with Xara online, and checked my registration details. I tried again, and when the process failed again decided to login with Administrator rights and try again. And that seemed to do the trick, so I switched back to my limited user account and was ready to check out Xara Xtreme pro.
Xara Xtreme Pro has a true LUA bug
When I started Xara Xtreme Pro as a user with limited rights I was greeted with a nice "You do not have sufficient access rights to run the program on this computer" on top of a nice splash screen. When I clicked OK I got another slick designed splash screen telling me where to go for advice, and that with just a click I could purchase and unlock Xara Xtreme pro. Splendid, I just had done that.

So instead of resolving a minor issue, just Xara Xtreme moaning with two pop up dialogs the first time it's used on a given day, someone decided to make a minor stupidity into a major one. How about that, one needs Administrator rights to doodle something. At least I hope that the people doing the Xara port to GNU/Linux, Xara LX, have more clue, because I doubt GNU/Linux users will be very thrilled by the idea of running a drawing program as root, since that's what the developers of Xara Xtreme Pro are asking me to do: run a drawing program (!) with Administrator rights.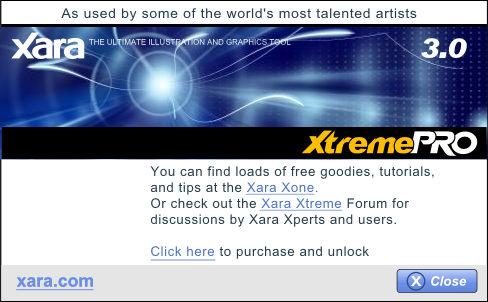 Why is Xara Xtreme Pro crippled?
As to the question why Xara Xtreme Pro needs Administrator rights during normal operation I can only guess. With Xara Xtreme it probably had to do with the automatic update process. Instead of a simple showing a dialog stating that "Automatic updates are not possible with limited user rights" preferable with a check box "Don't show this message again" the developers of Xtreme decided to bother me with two dialog windows every time I use the program the first time during a day. Besides that, I always had the feeling that the Xara Picture Editor (XPE) was severely broke for the same reason. But I never really had a good look at it.
With Xara Xtreme Pro the developers showed even more lack of skills. The program won't work at all using what I call normal day-to-day user rights.
Conclusion: Xara Xtreme Pro is unusable
The only conclusion I can draw from this short test is that at the moment Xara Xtreme Pro is unusable for me. I am not going to run a drawing program with Administrator rights, simply because there is no need for such rights being assigned to such a program. This bug is clearly the result of under skilled programmer(s) working with Administrator rights. The sad thing is that this promotes the use of Windows XP in an unsafe way.
Let's hope that this major bug, which I consider very severe, gets fixed before the CD gets shipped. I am afraid that I shouldn't hold my breath though. I contacted Xara and if I don't get a solid promise that this true LUA bug will be fixed within one month or so, I'll consider this product unusable and get my payment back. In short: this product shouldn't be available at all until fixed, and certainly doesn't deserve the label Pro.
Update: reply from Xara
Today, the 15th of December I got reply back from Charles Moir of Xara stating that the code for Xara Xtreme Pro is frozen and that they have to do work in this area (limited user rights) in order to improve Vista compatibility. The LUA bug is quite high up the list, and will be fixed relatively soon.
Since this issue has been reported over a year ago, and only has gotten worse, I am afraid that relatively soon is not soon enough. The CD version, which I paid for, is going to be released in January. I rather have them delay that with another month, and fix this issue. Moreover, improve Vista compatibility sounds a bit late to me to get started on next year.
Xara Xtreme and LUA related
Also today