A new desk for Esme
Since its getting colder in Xalapa, Esme asked me if we could move her computer to our bedroom. Normally we watch movies on her computer, in my "office" by sitting on a futon - not the thick Western version - covering a part of the stone tiles on the floor. Since there was already a kind of table in our bedroom, a piece of wood 123 cm wide and 39 cm deep, resting on one leg on the floor and a strip of wood attached to the wall, we were wondering if attaching a keyboard shelf under this table was sufficient to turn it into a little desk.
So in the late afternoon I took some measurements, and we went to Home Depot. We looked around, and found some sliders ? normally used for drawers. But the ones that were available couldn't be attached easily to the table in our bedroom. So we looked a bit more around and we found the computer desk section. And we both were attracted to model 80029 made by Tvilum-Scanbirk A/S, Denmark. I checked its dimensions with the tape measure I had taken with me. The desk was 120 cm wide, a little less then the current table, and it was also a little less high, and more deep, but it would fit perfectly. Home delivery was 100 pesos, and having it assembled at home was a bit more, so we decided to take the heavy package (over 30 kg) with us in a taxi back home.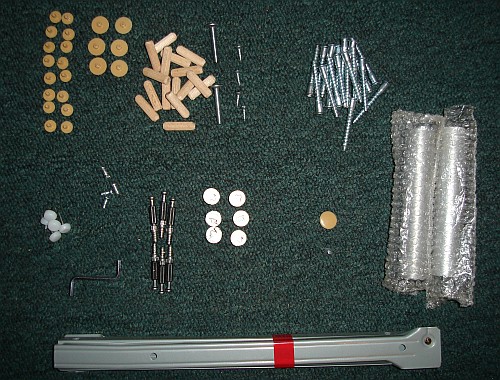 Someone helped the taxi driver with getting the package into the taxi, and after some struggling the package was inside leaving some space for Esme and me to sit as well. Esme handed some pesos to the guy who helped us, and we were on our way.
The taxi stopped conveniently at the entry to the parking lot next to our house, and I was able to carry the package up the winding stairs that lead to our house with hardly bumping the package here and there due to the little space available for maneuvering. After a short break I unpacked the parts of the desk, and checked them against the pack list. I neatly grouped the smaller parts, and noticed that there was one tiny screw and a plastic cap extra.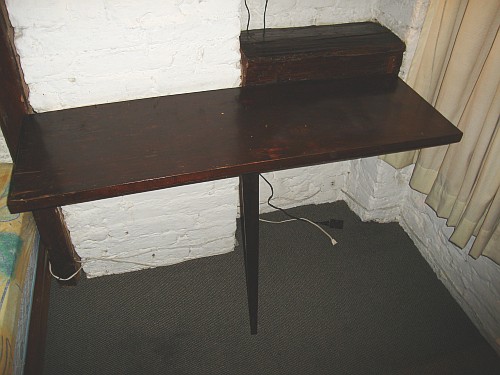 In the mean time, Esme had cleaned up the table with some help of her mother, who was visiting us. I moved some of the parts up to our bedroom and started to assemble the new computer desk with the help of Esme. Due to the little available space I had to move each part, almost one by one up. The assembly manual was quite clear, only step 3 needed some careful checking, but all other steps went very smooth.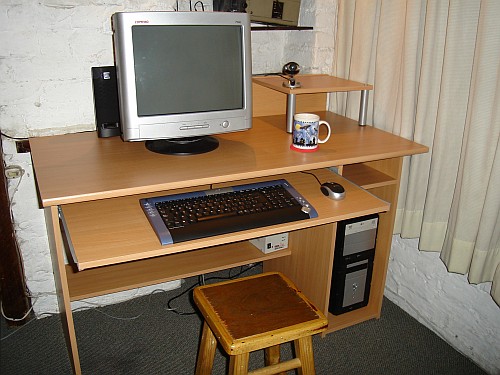 After about 2 hours according to Esme's mom, the desk was finished and in place. To us it seemed that much less time had passed, but I guess that from arriving with the package to the final result in front of us indeed took close to 2 hours.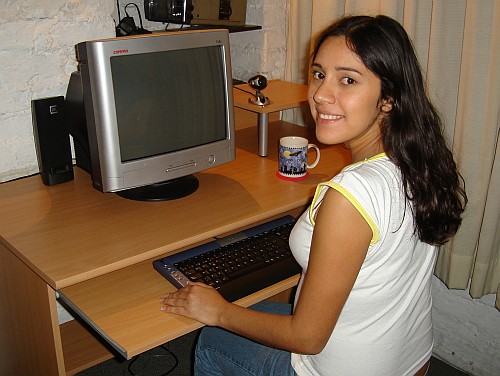 It took some more time getting all wires in place, and cleaning my desk, and testing if everything was working ok, including the network connection. But it was well worth the time. My own desk now has quite some extra space - it's over 175 cm wide with only one computer - and I am going to do my very best to keep it that way especially because I love a clean and spacious desk to work at.
Also today