Getting a good photo of your PDA
When my PDA arrived last month, a Dell Axim X51v, I tried to make a picture of it using a Sony Cyber-Shot DSC-S600. It was just a quick try to show off the crisp quality of the display, but I was wondering if I could do better by just scanning it with my HP Scanjet 3770.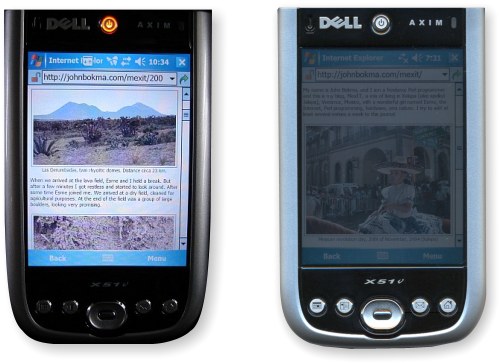 The scan turned out not too bad but it had two disadvantages: the silver color of the case looks almost blue instead of silver, and due to the light of the scanner the display looks very dim.
I decided to take a screenshot on the Axim of a page of my site opened in Internet Explorer Mobile with the free version of XnView Pocket, which I installed on the PDA last Wednesday. XnView Pocket has a Caption... option in the Tools menu. After tapping this option I selected a delay of 10 seconds, and switched back to Internet Explorer Mobile. After 10 seconds a sound was played by XnView Pocket, and the screen was captured and saved in PNG format. I transferred the screenshot to my PC with Microsoft ActiveSync, and used Xara to glue the screenshot on the scanned version of the PDA.
To get the color of the scan right and get rid of the blue I decided to convert the image to a grayscale image which worked out quite good. Compared with the real thing the photo in the screen capture has darker colors.
Xara Xtreme was used to cut out the PDA and to provide the drop shadow. Also I used some transparency when I put the captured image on top of the scan of the PDA in order to blend the two images a bit and make the doctoring less obvious.
What isn't clear in the final result, is how crisp the PDA display really is. It has 480 pixels horizontal and 640 vertical (QVGA) and even though the text looks unreadable in the doctored end result, it's very readable in real life. For reading long stories I doubt I will switch from printed books to the Dell Axim X51v. But for reading documentation and reference material it's excellent.
Axim X51v and XnView Related
Also today