Scorpions and Toucans near Chavarillo
Yesterday evening I let Esme decide on where to go today. Originally I wanted to go to Coyolillo, a place close to Otates, but Esme told me that we probably would see the same animals (meaning: scorpions and tarantulas) again.
She first mentioned Ixhuacán de los Reyes, but I said that I wanted to go to that place not this Sunday, so she picked Chavarillo. We took the bus to a small bus station in Xalapa, and had to wait some time for the bus to Chavarillo.
The trip was not a long one, and when we arrived in Chavarillo, Esme asked for directions to the barranca (canyon). We left the town behind, and entered quite a dry landscape. I looked under stones, but found nothing of interest.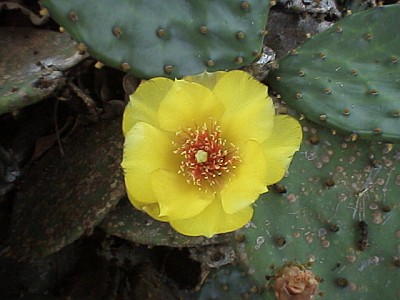 We greeted a local man, and Esme asked for directions. We walked into the direction given, and I noticed a beautiful yellow cactus flower and took two pictures. The man came over and asked us if we knew the name of the cactus, which we didn't.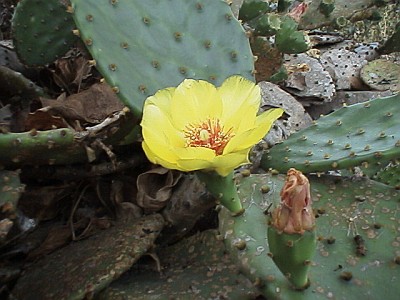 While I took the pictures I heard a very strong buzzing sound: bees I guessed. I looked up in the tree under which the cactuses where growing, but couldn't spot the hive.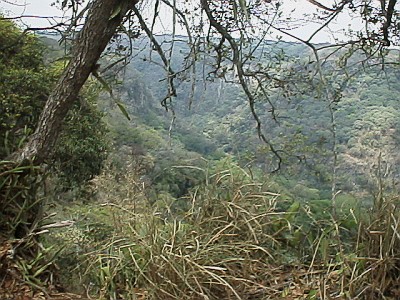 We continued our walk, and arrived at a field that looked quite new, and even had some kind of irrigation system. When we looked to the left, we saw a kind of valley. And when we kept walking straig ahead, we noticed that the field suddenly ended, and we could see the other side of the barranca in front of us.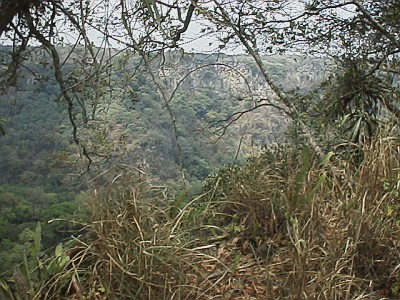 So, we finally had arrived close to the canyon. The question was: how to get down. So we walked a bit to the left, and noticed a way to get down a few meters to a flat part.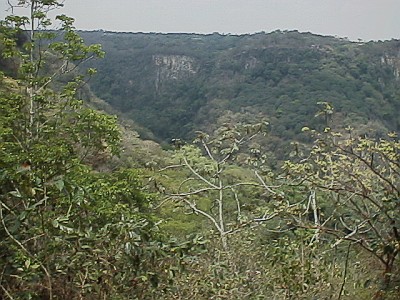 On the flat part I looked under some stones. We saw a now and then a lizard running away, making a lot of noise. I moved one boulder, and ... goosebumps, what was that. Ok, it wasn't some huge scorpion, but just some dried leaves wrapped together in a very peculiar way. It looked like a housing made by some kind of animal. Close to it I found another one, both had been hidden under the boulder.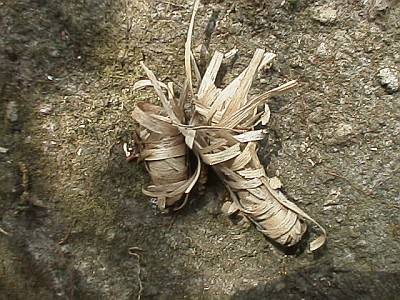 I took another picture, more close, showing that the housing had been closed. I was quite curious as of what animal had made this, but I didn't want to break one open to check inside. If you know which animal might be inside, let me know.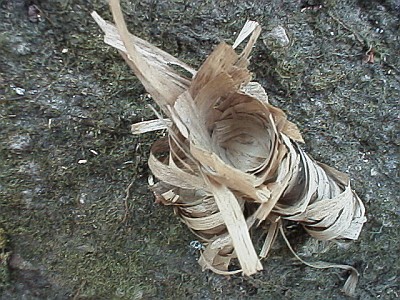 We walked to the right side (facing the other wall of the barranca) of the flat part, but it was clear that there was no way down. So we walked back to the left side, and walked a bit further. There was a slope, not too steep, and plenty of coffee plants to grab in case one of us slipped. After going down a bit we came upon several large boulders, and behind those was a path going down.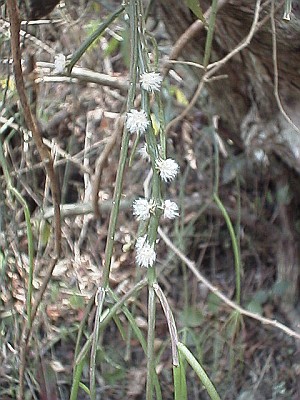 The path zigzagged down and down. I noticed a mistletoe cactus (Rhipsalis sp.) from a tree. The cactus consists of small green sticks, hanging down. This one had flowers, so I took a picture.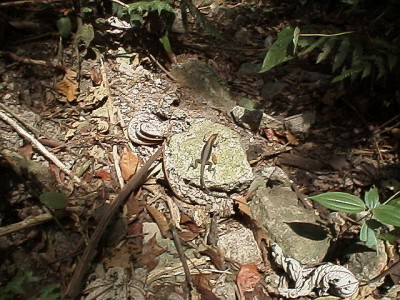 The path moved more and more into the shadows of big trees. We heard cicadas, and what sounded like frogs, and now and then a bird. The sound the cicadas made was now and then a bit spooky. Combined with the lack of human made sounds, it was like we where walking far away from civilization.
Suddenly I noticed quite a large lizard basking in the sun. I asked Esme not to move. The lizard moved into the shadows, but when I kept standing still, it slowly moved back to his spot, a large stone in the middle of the path, continuing his sun bath. In the mean time, Esme was admiring a huge blue butterfly, which I missed.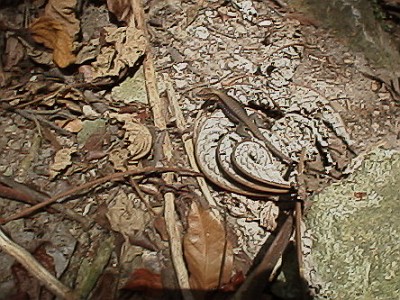 I was able to take another picture before the lizard moved off the path, to the left. There was a huge flat boulder so Esme and I decided to have a break, while we watched the lizard moving between the dead leaves behind us. The blue butterfly didn't reappear however.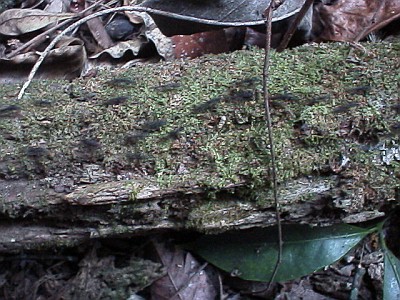 After the short rest we continued our walk. I noticed a long trail of ants. Probably migrating, since I saw several carrying larva with them. I tried to take a picture, but the ants moved too fast for the camera, making the ants appear as blurry shapes.
The path stopped going down zigzag, but moved more towards the opposite wall of the canyon, and more slowly down. Suddenly the path had big pieces of wood on it, one part blocking the path. We walked further, and I noticed a part of a tree trunk to the left. I was curious, so I moved it, not really expecting anything, and then we both saw it: a big dark scorpion with big claws...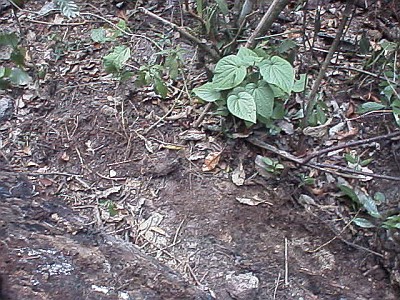 Esme helped me to capture the animal, she put a large plastic cup over it, but somehow it was able to move from underneath it. I carefully let the animal walk on my hands, and transferred it to the plastic cup. It looked like an adult Diplocentrus sp., but since I know only a few scorpion species I am not very sure about it, although this one had the subaculear tubercle (SAT), a small spine which looks like a mini-stinger, next to the real thing.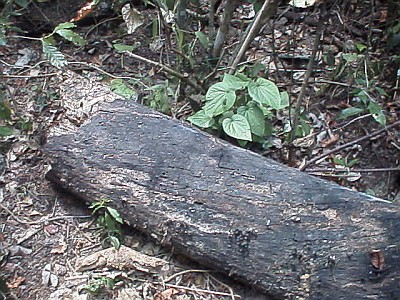 I moved the log back into place, and decided to walk back and look under another piece of a tree trunk in the middle of the path, in the same direction of the path.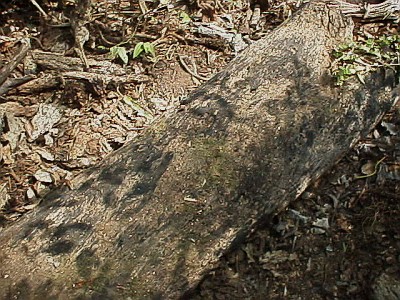 This one was heavy, and after a few attempts I managed to move the big log. And Esme spotted it first, another scorpion. A little smaller, but probably an adult. And belonging to the same species. Esme tried to capture it, but again it was easier to move my hand carefully underneath the scorpion and lift it. This one was a bit more aggressive, turning his big claws towards the movements near to it. Underneath the same piece of wood was also a big beetle larva (grub).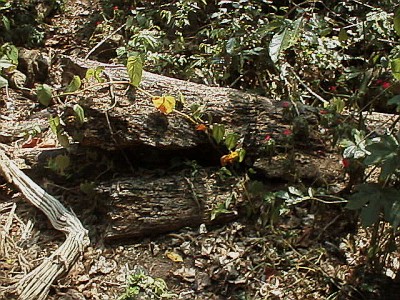 Out of curiosity, since two captured scorpions is enough, I checked under several more pieces of wood. I found another grub, this one was about the size of my thumb, big and fat. I wonder how the beetle looks that it finally will turn into.
I left the path, and looked under some pieces of stone. Esme remarked that the piece of rock nearby looked very straight, and it looked like it had a big groove cut into it, by humans. I referred to it as the Mayan temple, and told Esme how cool it would be if we actually one day would find something like that.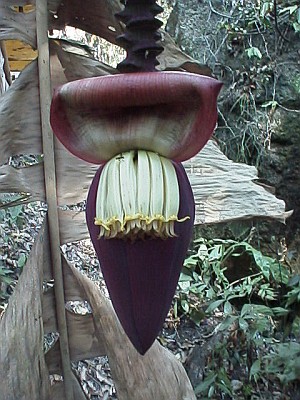 Anyway, we went back to the path, only to notice that it quite suddenly ended. After looking down a bit, we decided that it was possible to go down, like we did earlier. Only this slope was more steep, and it looked also a longer way to get down.
We managed to get down, and found another path, which we started to follow. I took note of the surroundings, because I wanted to go the same way back. We came up a banana plant with flowers, and I took pictures.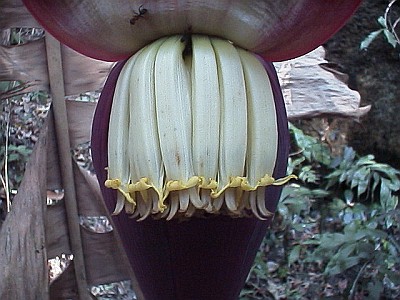 The path suddenly split, and we decided to go to the left. Then again the path seemed to disappear, but now we could see the bottom of the barranca, and water. So we just started to walk in the global direction of the water, following what now and then looked like a path, and at other times moving between plants and trees, several having thorns, so we had to be careful. I left sticks in a certain position to have visual hints when we went back.
We finally arrived at the bottom, and near the water. We enjoyed the peace of the place and looked around. It was wonderful. Yes, we had seen a plastic bottle close to the water, so humans had been here and left garbage, but here, it looked clean, and beautiful.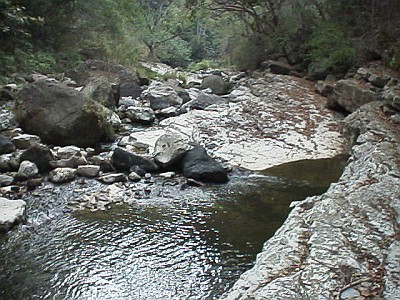 I took a few pictures. It looked like an excellent place for a long break, the place was not too hot, not even in the parts the sun had free access to. We saw many small fishes in the water.
Suddenly I saw my first big blue butterfly of that day, but it was not interested in me taking a picture of it, I even couldn't manage to take a picture of the animal flying, it was too fast.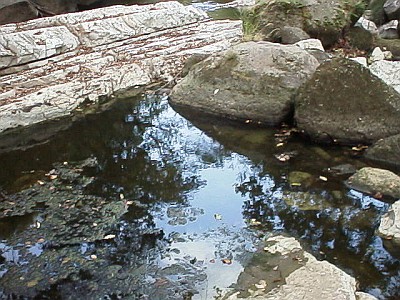 I removed my socks, and put my feet in the water. Esme decided to go a bit further, and went into the water. Which was not deep enough to swim. She asked if we could check out more to the right (as seen from the way we came) and so we did.
The water was not deeper, but there where two levels, and water moved from one level to the lower one via a small path. I said to Esme that she had to try it, and she agreed if she could sit on my feet since algae had decided that this was a good place to be as well. After Esme had enjoyed her free water massage for a while she asked if we could explore more down the river. We did for a short while, but since it was getting quite late, I said we had to go back.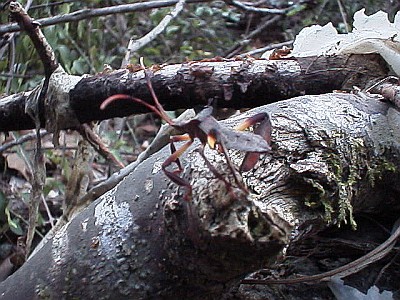 On the way back I noticed a well-camouflaged insect, just because it moved when I touched the piece of wood it was resting on. We managed to find the path back thanks to the visual hints with pieces of wood I had left, which I removed as not to confuse us next time we visit this wonderful place.
When we came again up the banana plant with the flower, I decided to make a picture of a real piece of jungle. We had seen the first season of Lost, and I was complaining all the time how open and easy what in the story was considered a jungle, actually was.
By that time we almost had finished our second bottle of drink, and also were a bit hungry. But sadly the bananas were too green to eat, so I asked Esme to keep on the look out for anything we could eat. Also we had to be very careful on the way back since we had decided earlier on that we weren't going to give the water we found a try.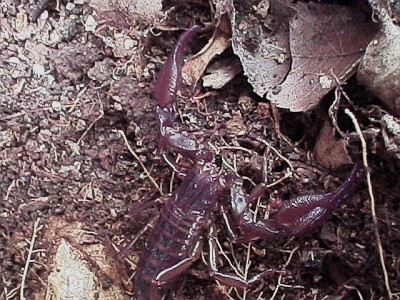 On the way back, when I looked under a big boulder in the middle of the road, I saw another scorpion, and as far as I could tell the same species (Diplocentrus sp.). Only this one less dark, more brown colored.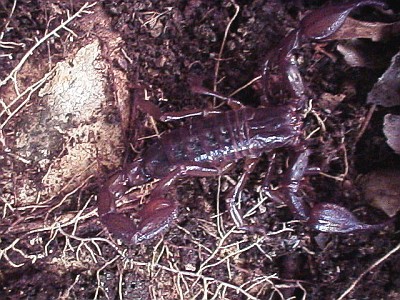 This one was even more aggressive compared to the second one we had found that day. It was turning his body, having his claws at all times towards the "danger". I didn't take this one on my hand, also because I saw no need for it, I already collected two that day.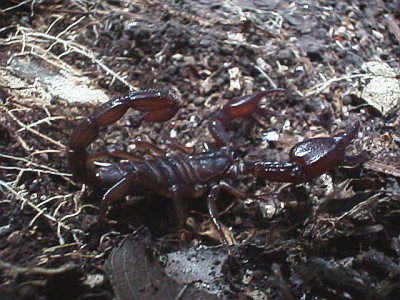 I carefully moved the stone back into place without crushing the animal, and took a picture of the stone it was hiding under, which was actually in the middle of the path.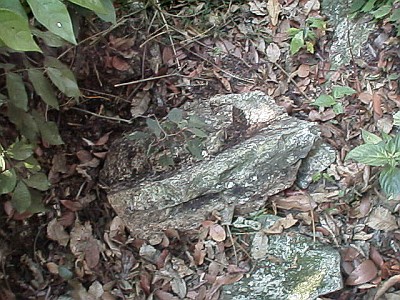 Esme and I continued our walk, and somehow we ended up to the right (our right) of the "Mayan temple". We had found an easier way back.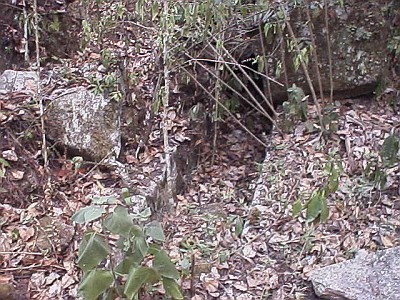 And so we had a better look at the cut out groove and the straight appearance of it, and also the straight appearance of the sides of the stone. It really looked like humans had been doing this, but why, and when?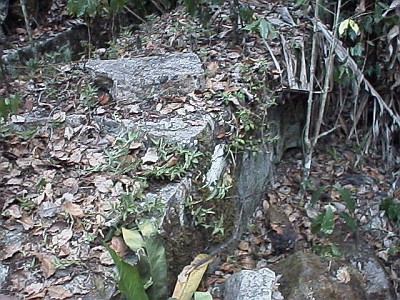 After I had taken 2 pictures, we moved back to the original path we had followed when we went down into the barranca, and where we had found the scorpions. I took some soil from underneath both pieces of tree trunk that originally had been a hiding place to the scorpions, and also took a few small pieces of wood, and a few dead leaves, so I could reproduce the habitat as close as possible.
The way back was hot, and we had very little to drink with us. The zig-zag path back up was even harder, and we both needed a break quite often.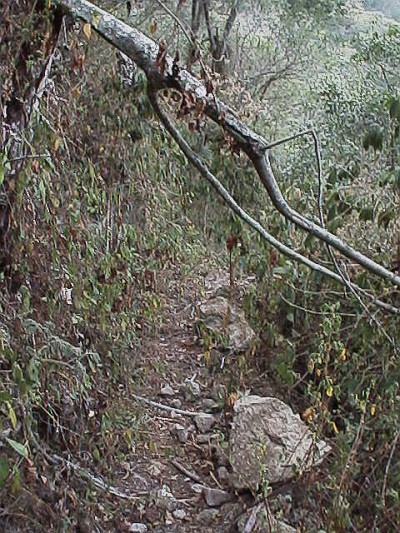 At one of our rest points I took another picture of the opposite of the barranca, hoping that the light at this time of the day would cause less problems with my old camera.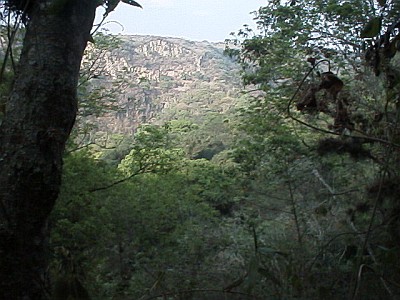 We kept following the path, and somehow we missed the spot where we had come down upon the path, and found (again) an easier way up. We arrived at the recently created field with irrigation. We followed the much easier dirt road towards the town. Suddenly Esme spotted a pair of Toucans in a tree. Wow! I had read in the "Ruta de la Niebla" that one could spot the small green toucan in La Barranca de Matlacóbatl, but hadn't really thought about being able to see them here. Moreover, we were well out of the canyon and quite close to the village of Chavarillo.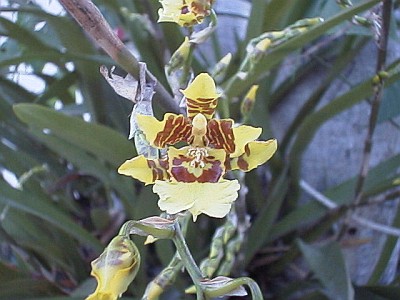 Back into the village we first bought something to drink, since we both were extremely thirsty. We looked around a bit, and noticed a place selling tacos. We both were hungry, and so we ordered something to eat. While we were eating, Esme noticed a very lazy dog resting on the sidewalk.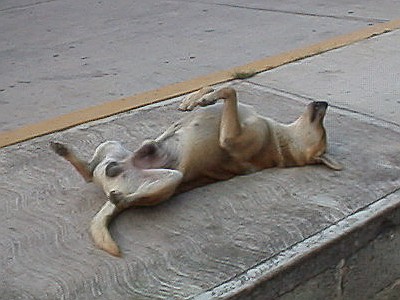 Just after we had paid for the meal, and were standing on the side walk, Esme noticed a bus. And we were lucky, since it was the bus back to Xalapa. Once we were seated and started to talk we both noticed a young boy looking with big eyes at both of us. Since Esme and I still talk mostly English, he was wondering what language we were talking. He kept listening, and laughing at us, and had a lot of fun. His mom had no problems at all with her son's curiosity, a good thing in my opinion, since he was just curious.
After a few minutes he dragged his sister from her place to his seat, and asked if she could ask us what language we were speaking. The sister was a bit shy too, but less then the boy, since shortly after the boy offered her money if she was going to ask, she asked us.
The boy handed over some coins, and when the sister complained it was not enough, the mother chipped in a few coins as well. Esme and I were really enjoying the whole thing, probably as much as the children and their mother. When we arrived in Xalapa and got off the bus, the children and their mother waved at us, and we waved back.
Back home I turned each section of an empty terrarium with glass divider I had, originally planned to house a Centruroides gracilis in each section, into a Diplocentrus sp. habitat.
Also today