Happy Birthday Laurinda!
Today was quite a difficult day, or maybe I should say the past days, and maybe the next as well. Today is the birthday of my daughter, Laurinda Bokma. And it's difficult, because she lives in New Zealand with her mother, and I can't be with her. It's over 3 years since I have seen her the last time, and it's tough. Some people say that time heals all wounds, but they forget that the scars can be more painful and don't go away.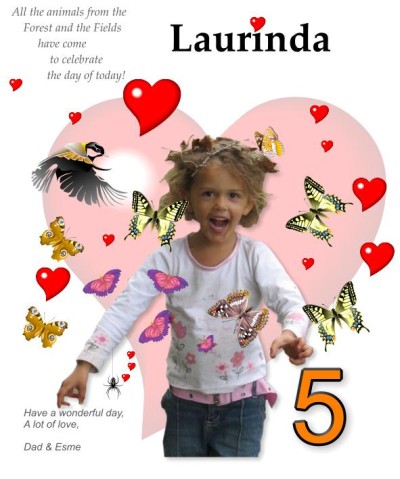 Anyway, yesterday I designed a birthday card for her and sent it to her by email. I already bought a real card for her, but haven't been able to find one for her brother, Jim. His birthday is the 22th of March. Also, I was expecting to get this week a few pictures that had been made of me last Saturday. I wanted to send them to my children together with the cards. And like I already wrote, things like this are very difficult to me.
So yesterday I used Xara Xtreme to cut out a part of a photo I have of Laurinda, and added some clip art that comes with Xara Xtreme. Also used the heart shape I made some time ago in the card. Originally I made the heart for use as an MSN Messenger emoticon and display picture, but since it's a vector shape, and can be scaled up without problems I decided to not only use it sprinkled over the design, but as a background for my daughter Laurinda as well.
Anyway, I hope she likes it, and hope to hear from her soon. Happy Birthday Laurinda!
Related
Also today