Adult tarantula spiders at last
Read the previous part of this blog entry in More scorpions: Centruroides gracilis.
Earlier on the road branched and we had decided to follow the lower branch. Also, because climbing up the Cerro de Otates looked like quite a task. The road went to the right, and we followed it (not that we really had an option). We found now and then a scorpion (Centruroides gracilis), or a small tarantula spider under a stone. I wondered aloud for a few times why we didn't find larger tarantulas. And after some time we did find a large one...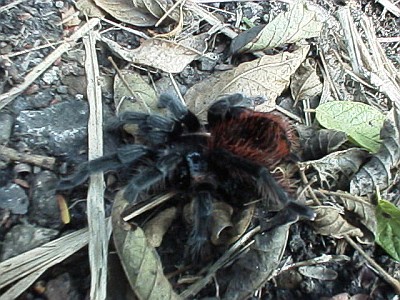 I recognized this tarantula spider as being a Brachypelma vagans, since I had one as a pet some time ago. Under the same stone was also a juvenile (4th instar) Centruroides gracilis hiding. Several months ago I had found in Buenavista a tarantula living close to a Centruroides gracilis as well. Note that this probably doesn't mean that one can keep them together in captivity.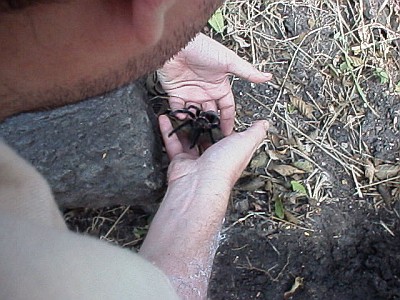 Since the Brachypelma vagans is generally considered to be quite docile, I had no problem with letting it walk on my hand, while Esme took some pictures.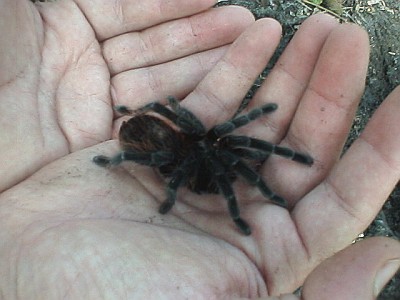 The white stuff on my arm is sun block, you can say that I used a bit too much. On the other hand, it was quite a warm day even though it was a bit cloudy and it's very easy to get sun burn on days like this in Veracruz, Mexico.
After Esme had taken a few pictures, I put the spider back on the ground, and put the stone back in its place, and the tarantula back near to the stone, so it could find its way back to its burrow. After a short walk, and several stones more, we found another big tarantula spider...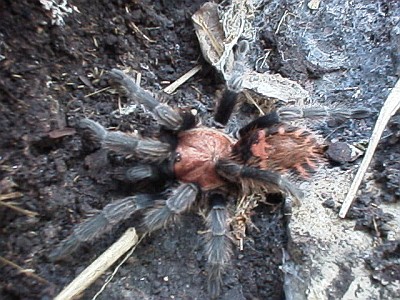 This one was even bigger, and looked the same species as the other tarantula I had for a pet for some time (found in Buenavista). This tarantula looks a lot like a Costa Rican tiger rump (Cyclosternum fasciatum) but it's not the same species as far as I know. Earlier that day we had seen a few smaller ones, but this one was big, and a beauty.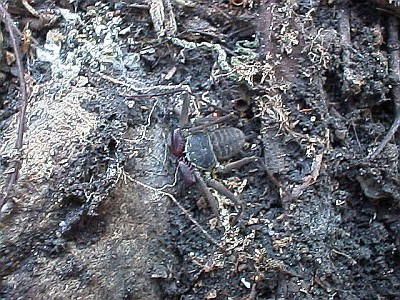 Under the same stone two tailess whip scorpions were hiding. People who have seen "Harry Potter and the Goblet of Fire" will immediatley recognize this animal as the one that was being used by Mad-Eye Moody to demonstrate the three unforgivable curses on.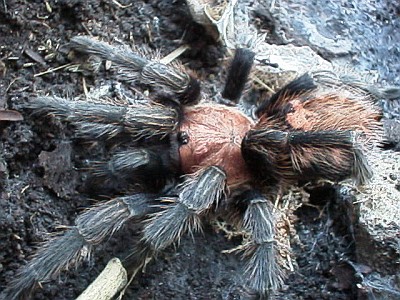 This tarantula appeared to be more skittish. I never had handled the similar one I kept as a pet, but I carefully gave this one a try.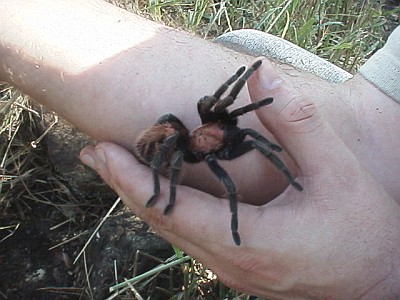 It had no problem at all with walking on my hand, and walking up my arm. I made it walk off my arm on my other hand while Esme took some pictures. It's a very odd feeling when a tarantula walks on your arm, the legs almost feel sharp, like they are making scratches.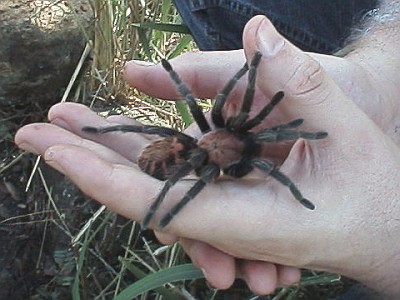 Both big tarantulas where found under big stones in the middle of the dirt road. I took a picture to give an impression of this habitat.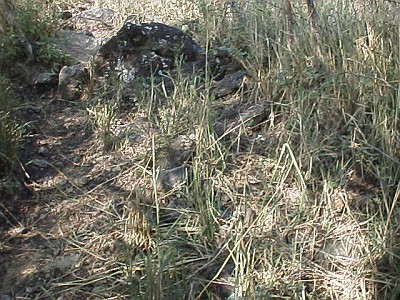 Also, in the middle of this road under a stone, I had found a scorpion similar to the first one I found that day. But when I tried to capture it, it managed to hide itself into a crack in the ground.
A bit later I found another "tiger rump" tarantula. Under the same stone was a cast off skin (exuviae), or so I thought. When I tried to lift it with a thin stick, it suddenly moved. It turned out to be a tiny and skinny Brachypelma vagans. So it seems that both species live very close, even sharing the same hiding place.
And shortly after that, I lifted a stone and saw many small red ants. They had a huge amount of what looked to me like grass seeds collected. I was only allowed a short peek, since in no time ants were crawling on both my hands, and moreover biting me, which hurted enough to make me drop the stone.
Read the final part of this blog entry in More tarantulas and bark scorpions.
Also today