Cricket to the Slaughter
In the evening Esme and I went out to look for a vacuum cleaner. We have very little carpet in our apartment, but enough to justify a real vacuum cleaner instead of the computer (which somehow is very good at it). Anyway, the model I liked didn't have an extension tube (if that's the correct description). Esme is small, but not that small. I joked that we needed to hire children to do the vacuuming if we bought that one. I liked the model since it doesn't require a bag, like the way more expensive Dyson vacuum cleaners. I bough one in the past, in New Zealand, and love those vacuum cleaners, but a Dyson would be overdoing it, big time.
Anyway, no vacuum cleaner. But I ended up with two nice bags with many pockets that have belt loops. I don't like the "Kangaroos" but prefer a bag to the left and the right, which is much more useful when walking in the field. The bags where on my list for some time, but the purchase got a higher priority since the bag I used for my digital camera has a hole big enough to let the camera slip through, probably due to too much exercise last Sunday.
Around eleven I decided that since it had been raining earlier, it was a good time to catch a few grasshoppers for the ground snake I keep as a pet. The small snake likes them a lot since it gobbles them down almost too fast to take photos. So I went out and after 20 minutes I returned with four grasshoppers and one small house cricket. I decided to give the cricket to the tarantula spider, hoping it was going to eat one this time. Last time it was not interested.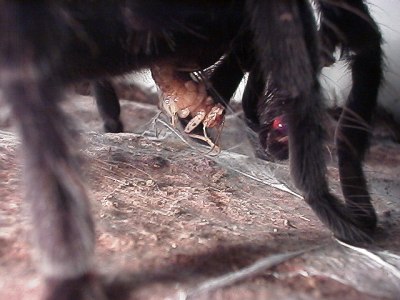 After watching the snake devour 3 grasshoppers - I guess the fourth one escaped - I fed the hind legs to smaller scorpions. Yes, I remove the hind (jumping) legs of the grasshoppers, with tweezers, which sounds easier then it actually is. Not only because it's difficult to get hold of a leg while the grasshopper tries to get away, but also I don't like to do it.
A little bit later I checked on the tarantula, an adult male Mexican Red-Rump, species Brachypelma vagans, and noticed that it was just moving the cricket to its mouth parts in order to eat it. This made me happy, since it hadn't been eating for over a week. I know this isn't a reason to panic, but anyway, it gave me a good feeling.
Tarantula related
Also today