A JSON feed for tumblelog
April 3, 2019
Yesterday I started with adding a JSON feed to the static tumblelog generator I wrote in Perl. I used the JSON Feed Version 1 specification which has sufficient examples.
With the addition of a feed the user has to provide additional information via the command line:
author - the author of the blog and feed.
name - the name of the blog and feed.
blog-url - the URL of the blog (not the feed).
The first two are also available as variables in the HTML template. The latter is used to create the feed URL by adding feed.json. This feed-url is also available in the HTML template.
Also, an additional Perl module needs to be installed for the script to be able to output JSON:
sudo apt install -y libjson-xs-perl

I currently use a makefile similar to the one given below:
TUMBLELOG = ../../projects/tumblelog
PERL = perl
SCSS = soothe.scss
SASS = sass --sourcemap=none -t compressed
CSS  = soothe.css
TEMPLATE = plurrrr.html
AUTHOR = 'John Bokma'
BLOG_URL = http://plurrrr.com/
NAME = 'Plurrrr'

all: local
	rsync -avh --delete -c htdocs/ ti:sites/plurrrr.com/public/

local:
	$(SASS) $(TUMBLELOG)/styles/$(SCSS) htdocs/$(CSS)
	$(PERL) $(TUMBLELOG)/tumblelog.pl --output-dir htdocs \
	  --template $(TEMPLATE) --css $(CSS) \
	  --author $(AUTHOR) --blog-url $(BLOG_URL) \
	  --name $(NAME) plurrrr.md

Note that I use --delete with rsync because I want an exact copy of the local directory on the server. If you have already a site on the server and want to keep those files make sure to remove the --delete.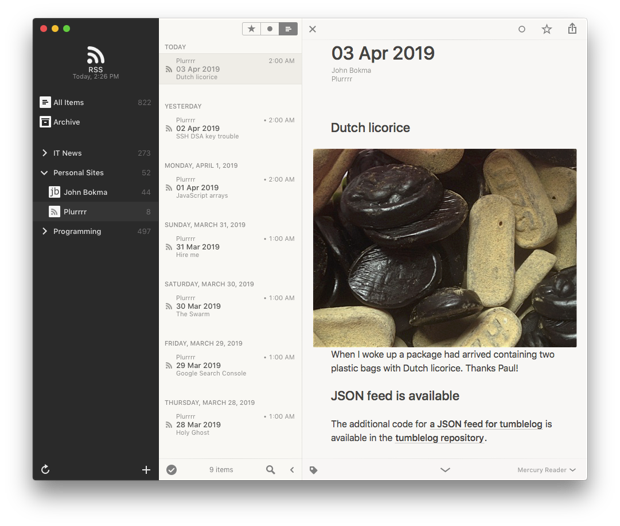 Yesterday I tested the feed in Reeder on OS X and the program can handle JSON feeds. Today, however, I discovered that links to images can't be relative, which I guess is a bug. I will report this bug.
Happy blogging!
Related
Plurrrr - my tumblelog, an example.