Water fun on the roof
Today the weather was fantastic in Xalapa, so around noon Esme decided it was a good moment for Alice to have some water fun on the flat roof of our apartment. Our daughter Alice had just recovered from a nasty infection, probably rotavirus, and certainly could use the distraction.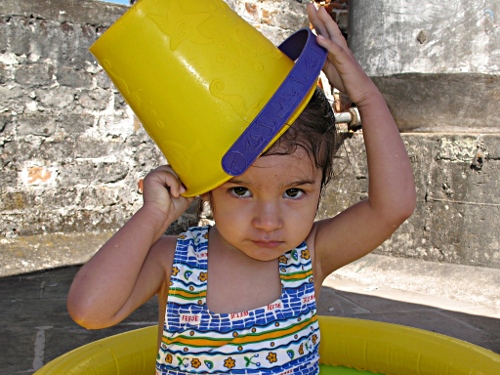 When Alice was settled in her little inflatable pool, I went down to get my digital photo camera, a Canon A640 and took a few photos. After I had taken the the first one, Alice picked up her yellow plastic bucket, and soon was posing with the bucket on her head.
Alice had a lot of fun with her little yellow plastic bucket, and kept posing while I took photos and laughed about her antics. Her grandmother, my mother, visiting us from the Netherlands was enjoying the show as well. She was quite worried when Alice was ill, and now greatly relieved to see her youngest granddaughter laughing again like nothing had happened.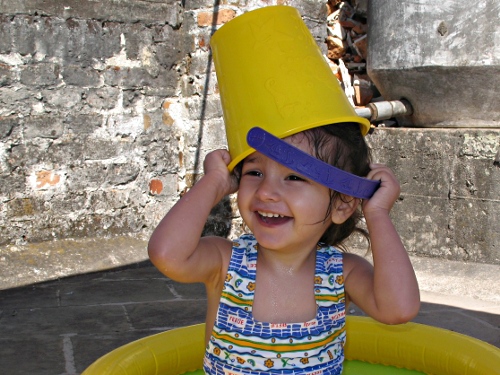 The bathing suit Alice is wearing is a present by her grandmother, bought in the Netherlands hence the Dutch word for little fairy, feetje, on the suit. We've plans to go to Puerto Escondido next month, and put Alice's bathing suit to good use.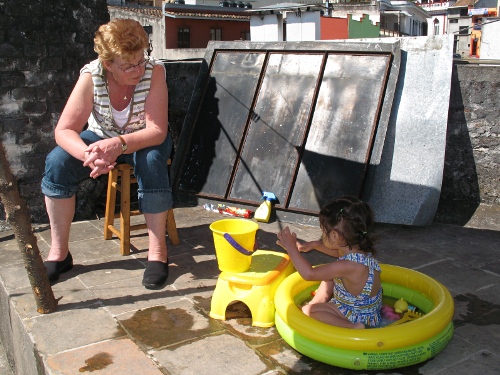 A large piece of fabric resting on clotheslines was used to provide some shadow on this hot day. The trunk of last year's christmas tree, with all branches removed, was used to keep the lines from sagging too much.
Also today