Juvenile Emperors on the prowl
In the evening, when I walked from my work space - also known as my office - to the living room I noticed several tiny tails up in the air inside the Emperor terrarium; the babies were out!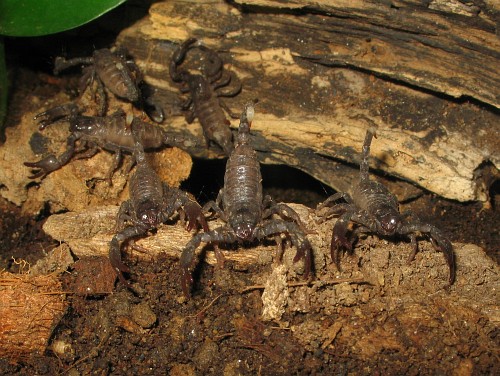 I had bought an adult Emperor scorpion the 20th of April, because I was quite sure it was a gravid female. The 1st of April, in the night, it turned out that I was right, because when I looked into her burrow - she had conveniently ended her burrow against the glass - I noticed that she had babies on her back.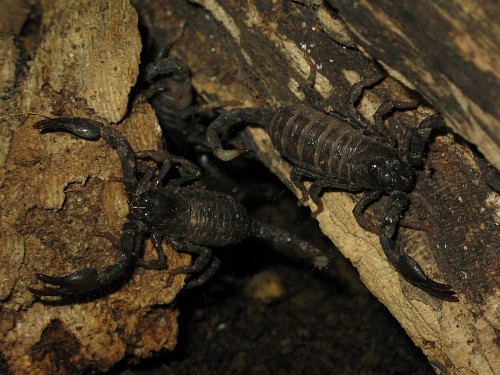 And this evening I saw the little ones out of their mother's burrow for the very first time, after about 6 weeks of hiding. Based on what I had read I had expected the mother to come out much earlier - about two weeks after giving birth - with the babies on her back. But she stayed inside, together with her little ones. So around the end of April I removed the piece of wood that partially covers her burrow, and dropped a prekilled cricket inside, which she readily accepted. A few days later I fed her a prekilled superworm - the larva of a darkling beetle species Zophobas morio - which she also accepted without a problem. After that I kept dropping a prekilled superworm into her burrow every 2-4 days.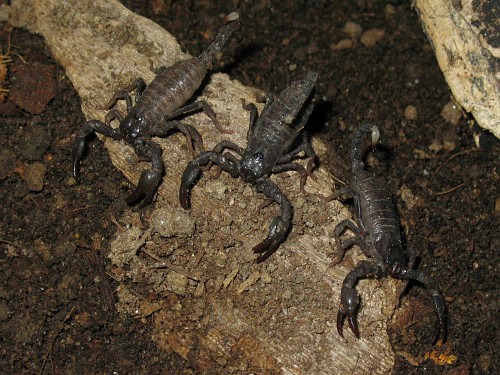 I had seen the mother out a few times, and also seen that she had been extending her burrow; made it deeper, and moved it away from the glass. The result of her burrowing activities can be seen in the above photo, notice the dark colored substrate, which comes from the very bottom layer (see also: Housing a Pandinus imperator).
And today the little scorpions were out, which was an amazing thing to see. The young ones are already larger than several other scorpion species I keep. I carefully dropped two prekilled superworms into the enclosure, hoping to see the young scorpions eating. But alas, when I came back a bit later to see if they had already discovered the food, one superworm was gone from view, and I could see, with the use of a flashlight, some scorpions eating deep down into the burrow. The other superworm disappeared late at night.
I counted eight juvenile scorpions, but I am not sure if all where out. But eight additional Emperor scorpions sounds already great to me. It's going to be quite some work to raise them, and they will after some time require quite some space.
Also today