Photos of guppies and baby guppies
Today when I fed our guppies I discovered that the young female was indeed pregnant. Was, since I counted 12 baby guppies (fry). Since we had a fish tank only containing plants I moved the mother and the other 3 larger guppies that kept her company to the other fish tank because that was easier then sucking up the babies one by one with a plastic tube.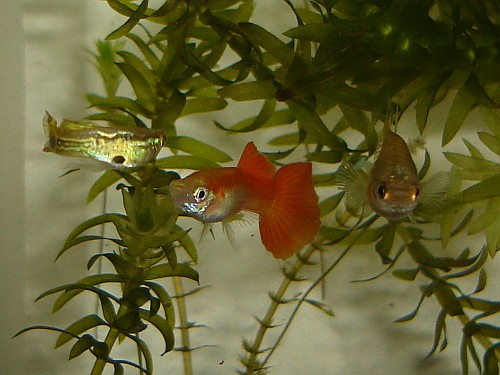 In the above photo you can see three of the four guppies after I moved them to the other fish tank. The mom is to the right. In the center is an orange colored guppy we got from a pet shop in Xalapa after they had sold us a male guppy infected with Ich (Ichthyophthirius multifiliis), a well known fresh water parasite, more on that later.
The male guppy on the left was born the 5th of July last year, see Baby guppies and other pets. The fourth guppy - also male and not visible in the above photo - was born that same day. The mother of those two gave birth again several days later, and it was her daughter that gave birth today. Sadly she and another daughter of her died thanks to the pet shop selling us an infected guppy.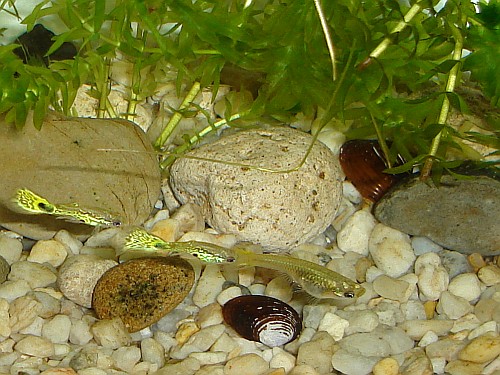 The 3 siblings swim close together most of the time as you can see in the above photo. The orange male is a bit of an outsider, and was even more so the first week after I put it together with the 3 other ones after I had kept it separated for over two weeks to make sure it wasn't infected as well with Ich.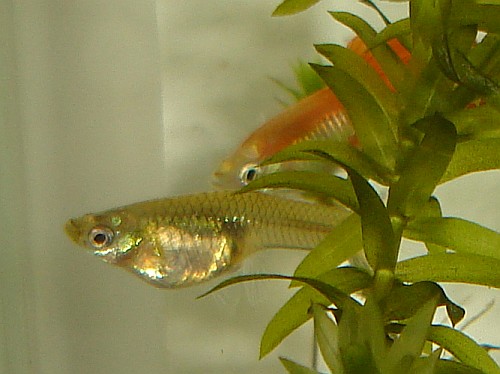 Earlier this week I said to Esme that we had to buy at least 2 more female guppies - because as far as I know we have currently 3 males and one female, a situation which might cause a lot of stress to the female - and after 2 weeks of quarantine introduce the orange male to them. But as of today plans have changed, also because the four fish seem to be doing quite well.
Ichthyophthirius multifiliis or Ich
Some time ago Esme had bought a new male guppy for 35 pesos. Back then I gently introduced the guppy to the 2 females we had in one fish tank. The other fish tank contained the 2 smaller males and the female that gave birth today. And even though I had kept fish in the past, and my dad kept fish as long as I can remember, I somehow overlooked that this guppy might carry a serious infection. In my opinion, when one buys fish from a good pet shop it shouldn't be infected with a parasite like Ich but somehow that was what we got.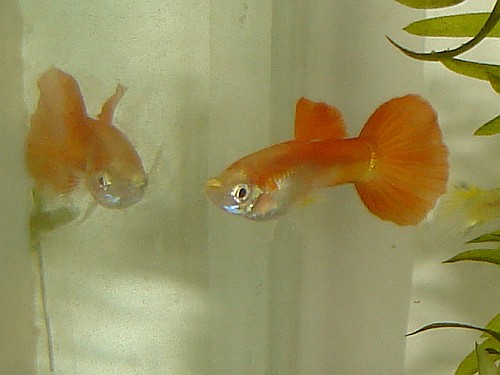 Shortly after I had introduced the fish I noticed that it flashed a lot and in general behaved very different compared to the other two fish. About a week later it was dead. I was angry and said Esme that the pet shop had sold her either a fish that was ill or old with age. I put the dead fish in a plastic bag and had plans to confront the pet shop later that week with it. I somehow forgot about the fish until the next one died: the mother of the three guppies in the other tank, and the one that was sharing the fish tank with her.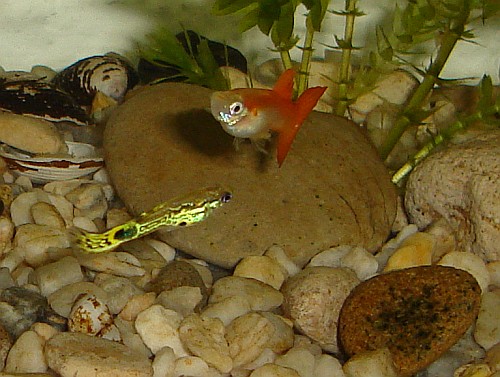 A few days after the mother guppy died Esme went back to the pet shop with the two dead fish. However, the man who sold her the fish told her that it was our own fault; Ich, according to him, was a parasite that could stay dormant in the substrate for a long time and suddenly wake up. And because the water in our fish tank had a low temperature - we don't use a heater so the water was around 20 Celcius back then - it had killed the fish he had sold to Esme.
Like I already wrote, my dad had kept fish for a long, long time. And I knew that Ich does show up when new fish are introduced, and also knew that it doesn't stay dormant in the substrate for ages to pop up suddenly. Moreover, we had never had an Ich infection before with any of our fish so how did we get it; from the tap?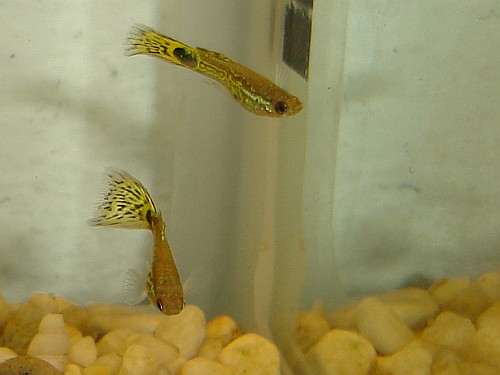 The same evening I went back with Esme to the pet shop. This time a girl was behind the counter. She was talking with another girl when we entered the shop but shortly after we had entered the shop she asked how she could help us. I said that I wanted two new guppies and showed her the dead ones. She saw that we both were angry and told us that we could get our guppies but first we had to listen to why it really was not their fault and that the other girl could confirm her story. So Esme confronted the other girl and asked if she was a biologist. "No", she said and told Esme that she had studied psychology but that her husband kept fish. Esme told her that she had studied psychology as well, and that I also kept fish - what a coincidence.
Anyway the story went that it was our fault, the water temperature was not right, and they didn't sell fishes with infection, etcetera. I tried to cut the story short a few times, making clear that I really wasn't interested. But she really wanted to make clear that they had nothing to do with it. In the mean time a guy was trying to capture two new guppies for us.
Just when we thought she finally had told her story the man Esme had spoken earlier entered the shop from the back and explained to us how Ich is everywhere, in every fish, in the substrate, in the water. And that we had activated the parasite because we didn't use a heater. Both Esme and I were thinking how to get out of the shop fast, and with our two guppies because we both had heard enough nonsense for the rest of the week. And hurray, a few minutes later we were outside, with our guppies.
Ich (Ichthyophthirius multifiliis) related
Photo of guppy fry
Today, in the evening I made a lot of photos. It's quite hard to make good photos of moving fish and even harder to make photos of guppy fry less than a day old - but somehow I was lucky.
In the above photo you can see five of the twelve baby guppies. Since I discovered the fry this morning the fish in the above photo are less than a day old since I didn't notice the fry last night.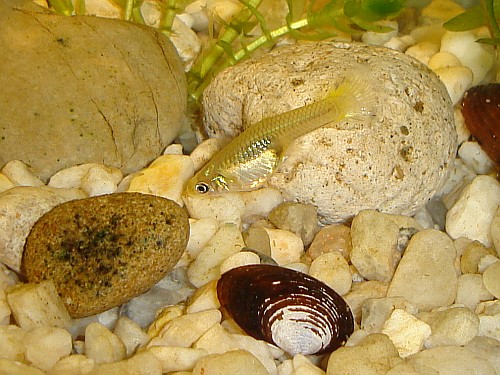 Also today