Scorpion walking on the ceiling
In the afternoon, while I was sleeping (I had quite a cold), Esme suddenly woke me up with the words: "Is that a little scorpion walking on the ceiling?". And she was right, there was a tiny scorpion walking on the ceiling, with now and then its tail dangling down due to the pull of gravity.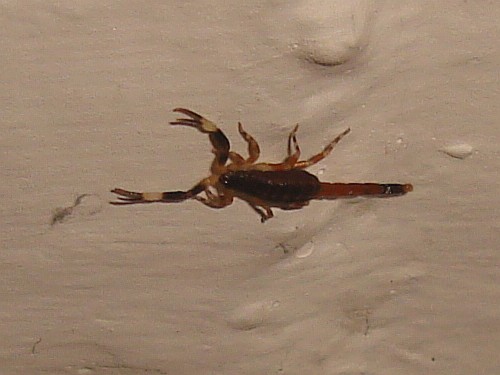 I grabbed my digital camera, a Sony Cyber-Shot DSC-S600, and took a few pictures. I also had a closer look, and as expected, this was a juvenile Centruroides flavopictus. This scorpion species lives on the roof of our house, in Xalapa, and now and then walks into the house.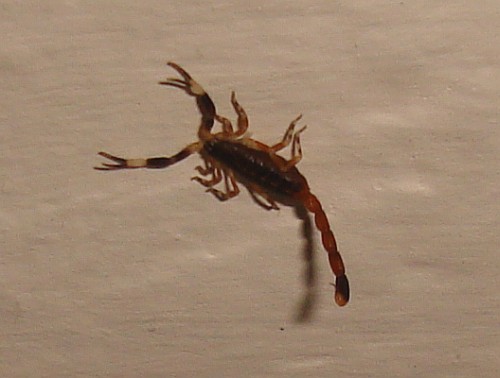 Esme somehow is always the person to find them, and twice so far the hard way: she got stung. But this time the scorpion was out of reach and spotted in time. I captured it and added it to my still growing collection of scorpions.
In both pictures you can see the nice pattern on the legs. When the scorpion gets older, those bands will fade away, sadly. Based on the size, about 5 mm head to start of tail, and about 13 mm head to end of stretched out tail, I would guess this scorpion to be a second instar.
Since it was raining quite strong when Esme found the scorpion walking on the ceiling, it might have entered the house to find a dry spot. On the other hand it might have been hiding in our bedroom for days...
Also today