Tarantulas and cats: El Cafetal
A few days ago José asked me on MSN Messenger if we were interested to visit his grandmother's rancho with him and his wife Ara. We know each other for quite some time via the Internet, and some time ago José even brought me a male Brachypelma vagans, Mexican red rump, a tarantula species, in a cake box, but we had never had a real get together.
So this morning, around ten like planned, José and his wife arrived at our place. I took our stuff down, since Esme was paying the ATM a visit, and told José and Ara that Esme was coming soon. And I was right, since she was just coming back.
We took a taxi to Plaza Crystal, since nearby one can take a colectivo: a taxi service that let people share the fare between them. And when we arrived we a taxi was already waiting, so we continued our trip shortly after.
When we arrived at El Cafetal we walked to the rancho. Esme and I got introduced to José's grandparents and other family members, and shortly after we had lunch in the kitchen (empanadas with cheese or chicken).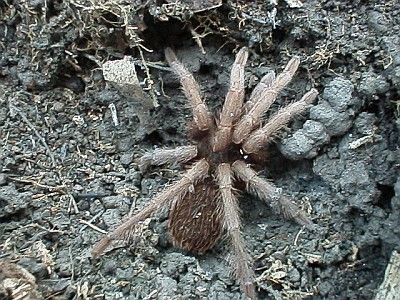 After lunch we walked to the house of an aunt of José. A family member of José joined us. We walked on a small dirt road with to the left and the right young sugar cane growing. Everybody knew that I was into scorpions, so when a hill to our right showed up with a lot of huge boulders, I was urged to look for scorpions. So I went up, and José came along. The surroundings looked a lot like a good place for Centruroides gracilis, but despite the many stones I looked under, no scorpions.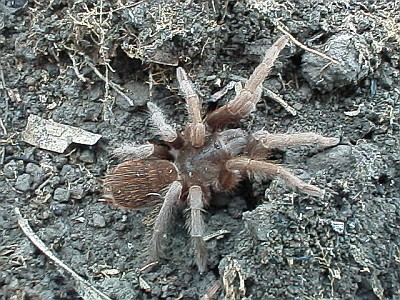 When we returned Esme told me that they had found a tarantula. The girl that came with us had moved a stone with her foot and under it was a small (2 inch, guessed) tarantula hiding. I didn't recognize the species, moreover I wasn't even sure if I had seen this species before.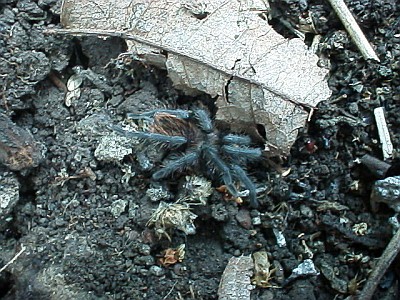 We continued our walk, and close to a fence I found a juvenile Brachypelma vagans hiding under a stone. Esme looked under another stone a bit further down the road, and spotted another Brachypelma vagans. But by the time I arrived to take a picture, it had already withdrawn in a hole in the ground.
The juvenile Mexican red-rump was well hidden, I could hardly see it. So I decided to leave it, and move the boulder back into its place, restoring things as they were before.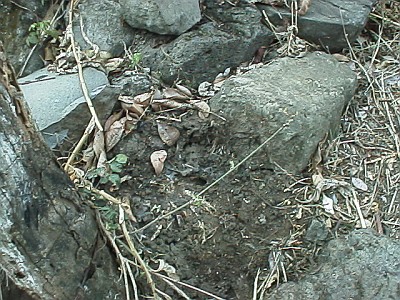 We followed a small path and the surroundings got more and more green. It was quite a hot day despite the short rain showers now and then. I kept looking under stones, helped by Esme, but no scorpions. I did find some other very interesting animal under one stone though: a vinegaroon.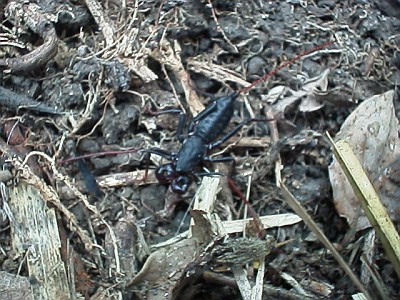 Esme and I had seen those animals before in La Barranca de Matlacóbatl, a canyon near Teocelo. But I hadn't expected to find one here. I was just able to take one picture before the animal ran away, and hid itself quite well.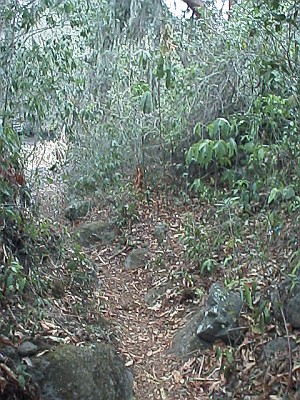 It started to rain again but before we got really wet we arrived at the house of José's aunt. Esme and I got introduced, but we both had more eyes for the very small cat. Esme wanted to take it, but it hid behind a stack of bamboo and other stuff close to the door. I noticed another one trying to hide behind a pot with an orchid, and managed to capture that one.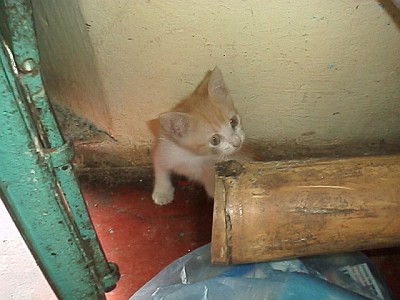 Esme tried to hold the cat on her lap, but the little one didn't want to be caressed. In the mean time I tried to take a few pictures of its sibbling.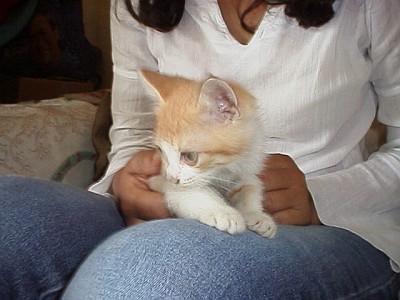 After some time, both little cats went outside, to play hide and seek into a pile of firewood. I followed them, and again tried to make a few pictures.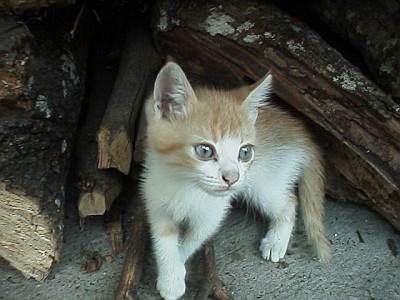 Nearby was another cat, an adult, resting on a bag filled with corn ears. From the looks of the cat, it might have been very well the father of the two little ones.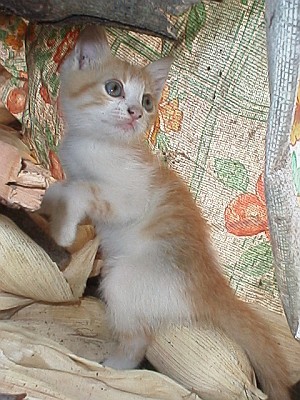 The others were involved in a tour around the house, since there was plenty to see. I decided to join them.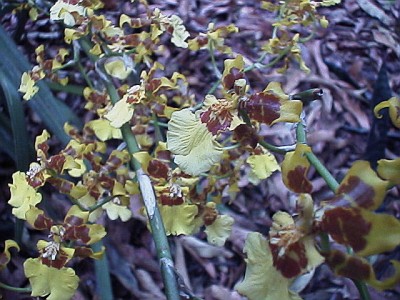 I noticed some orchids with beautiful flowers so I had to take a picture. After that I joined the group. We looked at some pools near the house, formed by water coming out of the ground. Nearby was a hill covered with coffee plants. Esme and I decided to have a look, and the girl that had found the first tarantula joined us. We looked under many stones, but no scorpions.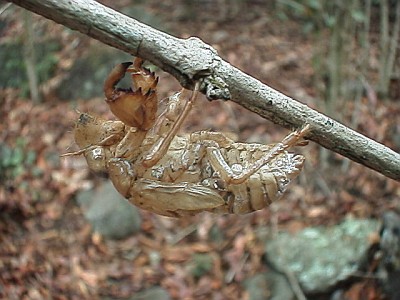 Esme noticed the cast-off skin (exuviae) of a cicada. After I had taken a picture we joined José and his wife Ara again, and returned to the house.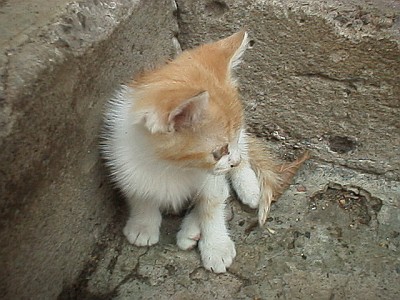 One of the young cats was sitting on the stone stairs near the entry to the house, so I took a picture while the others were putting chairs outside and getting drinks.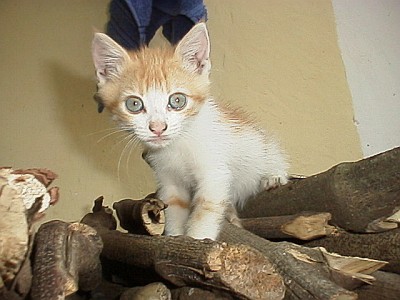 The kittens shortly after started a new game of hide-and-seek in the stack of firewood so I tried to make a few good pictures of those lovely animals.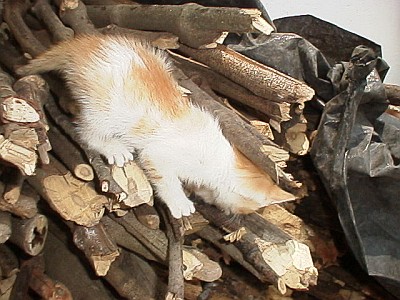 The game moved to a corner with olotes to the left of the stairs. The olotes were now and then mistaken for a sibling, and became a part of the game the two little cats were playing.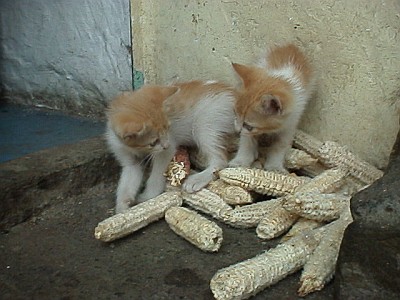 In the mean time, the others were enjoying a cold drink and sitting outside, talking. I got quite thirsty, but decided to take a few pictures more.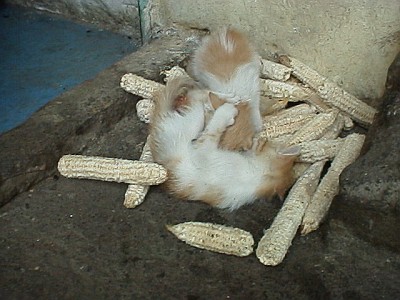 The cats were so involved in their game that they were not aware of me taking pictures. Their playfight got a bit more serious, and moved to a room to their left.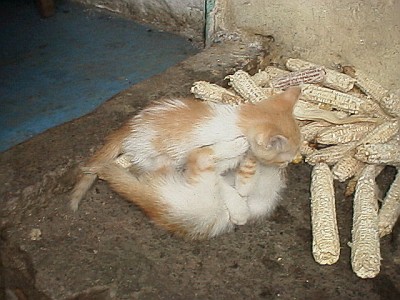 Since the room contained a chair, the chair soon became part in their game as well. And like with the elotes, now and then it was mistaken for the opponent.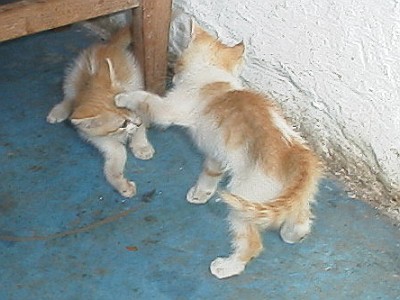 The game moved more to the back of the room, and since I was getting more and more thirsty I decided to join the others.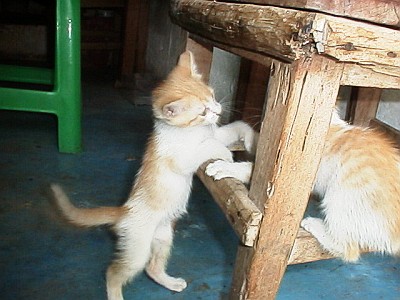 To be continued...
Also today