White water rafting in Jalcomulco
Today we went to the town of Jalcomulco, Veracruz. Esme and I had been white water rafting about one year ago and we were both convinced that my mother would love it. We had to walk to the bus that took us to Coatepec because the main street in Xalapa was blocked by trucks parked in front of the government palace.
When we arrived in Coatepec, a town near Xalapa we had visited yesterday, we had to wait a bit in the bus to Jalcomulco before it finally left. After a quite a bumpy ride we arrived in the town of Tumazapam. There the bus drives over a piece of land occupied by the ruins of an hacienda and moves left and right, and shakes all its passengers for several minutes. After that, the road gets much better, and the view is beautiful.
When we arrived in Jalcomulco, I asked Esme to go to the shop alone. Now and then when people see tourists coming the prices go a bit up. We already had decided to go with the same company as last year: Proadventure. Esme came back to get my mother and I, and the price for the rafting adventure sounded good. We all went to the shop together and Esme managed to get a bit off the price. We talked with Isabel, if I recall her name correctly, and when she heard that Esme and I had done this before, she said we could do a class II rafting trip. Since last year we did a class I with Esme, her cousin, and her nephews we thought that class II was not that much more difficult, and no problem at all to handle by my mother. She had told us, and Isabel, that she had been kayaking a few years ago in Venezuela, so class II sounded right to me and Esme.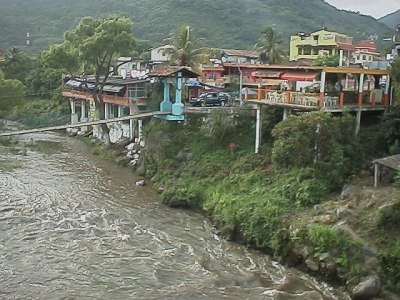 We had to wait a little for the car that would take us to the starting point. When the car arrived we met Jorge and Alfonso, our instructors / guides. Isabel drove us to Puenta de los Pescados, more up the river. When we had arrived and looked at the river, the water looked quite rough. Many waves, a lot of white foam. Very different compared to the first time Esme and I had been rafting. Back then the trip started in Jalcomulco, and the water was almost smooth.
We got into the boat without 20 minutes of instructions, also different from our first time. I guess Jorge considered instructions not necessary since Esme and I had done this before, and I could remember the most important commands: adelante (forward), atras (backward), and halto (stop). My mom and I sat in front, Esme behind my mother, Jorge in the back, and Alfonso in a one-person kayak for scouting and rescue purposes.
We moved towards the middle of the river, and already we had to do a lot of paddling, and it was clear that this was quite different from our first rafting experience. My mom was getting quite scared when the water got even more rough, and I had the idea she wanted to go back. To add to her worries, after five minutes or so Jorge and Esme both had to grab me otherwise I would have dropped out of the boat.
The water got more and more rough, we had to paddle a lot, and all the while me and my mother had to try to make sense of the commands Jorge was shouting, sometimes in Spanish, sometimes in English. Moreover I had to tell my mom many times that everything was safe and ok, and not to worry too much - which she obviously was doing - and explain how she had to paddle and also translate the commands. Moreover, I had to tell her several times to sit more on the edge of the boat instead of inside, which she considered a very bad idea.
A river gone wild
We had no time to look at the fantastic views but had to work like crazy: foaming wild white water was everywhere. My mom got more and more into problems with paddling, trying to making sense of my half translated instructions, and not to panic. So Jorge decided that Esme and my mother had to swap places. And shortly after they had done so, the water got very rough, and the next thing I saw was the boat lifting up and up from the water on Esme her side, and then she flying over me, and into the water. I tried to grab her in midair, failed, and the next thing I saw was her face filled with horror while she was dragged away very fast downstream, away from our boat by very wild water. I knew I shouldn't jump after her, since that would mean two people to be rescued. So I tried to calm down my mother and myself, while I looked at Esme, who was now more relaxed, floating downstream. Alfonso, in his kayak, was after some time able to get close to her, and able to bring her to the left shore of the river where Esme was finally able to stand on her feet.
In the mean time, Jorge was instructing me to row stronger and faster, we tried to get to the same side of the river. Going back to Esme was impossible. I grabbed some of the plants near the shore and managed to keep the boat steady. Jorge got out, and instructed Esme to let herself go, legs first and he would grab her. Again Esme was dragged downstream by the water, but this time less fast, and Jorge was able to catch her. I helped Jorge to lift Esme back in the boat, first the wrong way, by her right arm. Jorge made clear that I had to grab her safety jacket instead, and after another attempt we got Esme safely back in our boat. Alfonso had recovered her paddle, and so after a lot of excitement, scary moments, and a lot of hard work we continued our wild water voyage.
The river stayed quite rough for some time, but there were now also parts which were quite easy, especially compared with what we just had been through. We had now time to enjoy the magnificent views. We saw several big birds with very nice yellow colored tails. Jorge called them oropendola, and explained that the hanging nests we saw were made by this bird. I saw a bird which looked to me like a huge kingfisher. And higher in the air we saw vultures.
Each easy part of the river was followed by a rough, or a very rough part. Bends in the river, sometimes the boat hugging the rock wall, next moving up and dropping down very fast. And every time it got very rough we yelled in excitement, because we got the hang of it. At one time the boat went up on a "hill of water" and dropped down very fast, and we didn't even got scared. It was all wonderful and quite an adventure. Jorge said now and then that I had to paddle more strong, and when I said that I was lazy he answered, "That's ok John". Paddling more strong is quite difficult when you can't reach the water because the boat is almost flying through the air. At one moment the boat got very close to a rock wall, I moved away from the edge of the boat, and it all went very smooth. Jorge complimented us with a "well done!".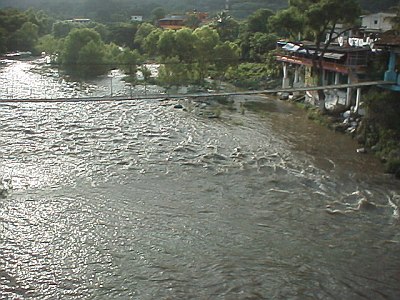 After quite some time Jorge made clear that we were near to the town of Jalcomulco, and hence the end of our trip. By now we were so used to the river that we did the last rough parts by making the boat spin for fun. We moved the boat under the bridge, and to the right side of the riverbank. We got out of the boat, thanked Jorge and Alfonso, and returned to the shop to pay for our adventure. My mother changed her clothes in the bathroom next door from the shop. Esme wanted to swim and asked me to join her so we didn't change. We waited for Isabel and paid her and talked about our wild water adventures.
Class II river or ...
I asked Isabel if what we had done was really a class II because I somehow had the idea it was more class III. The answer got us a bit stunned, parts of what we had done were class IV! Jorge had already asked me when we landed the boat how my mother had liked it, and when I said it had been her first time he was a bit shocked. He probably had misunderstood "kayaking in Venezuela". Anyway, my mom really had had an excellent time after she got used to seeing wild water everywhere except above.
We walked back, and on the middle of the bridge we had a small break and enjoyed the refreshments we got. I took a few pictures. The sun was already setting, and the light was less bright.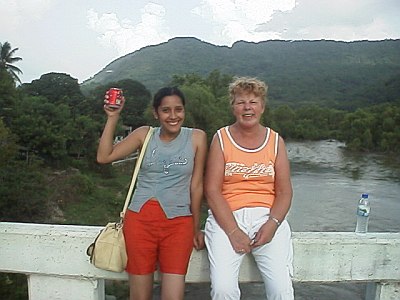 The water was very cold so we just walked a bit in the water, and talked a lot about our wild water adventure. The first time Esme and I had been rafting we did quite some practicing in the water close to the river, but it looked now much more in motion compared to last year. The rains, a side effect of the hurricane season, had changed the river a lot.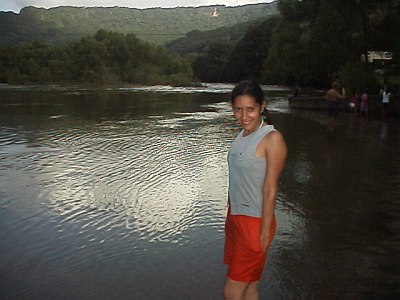 When we looked downstream we couldn't imagine that the river upstream had been such a rough ride. Only in the distant, to the right, the river looked wild again.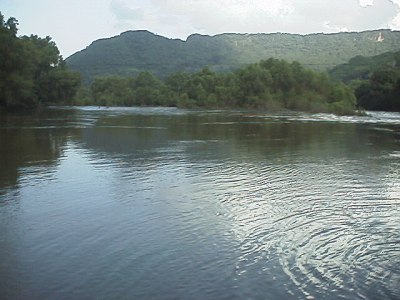 Last year, we also saw a man dive from the bridge into the Antigua river. Now the water was brown, also caused by the rains more up stream. In Xalapa we have had almost every night quite some strong showers, adding to strength of this river.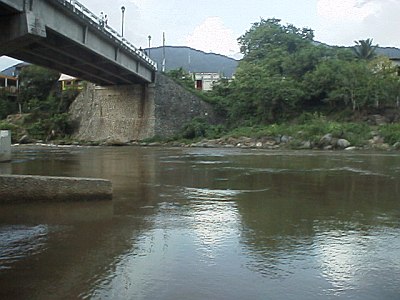 Since the water was too cold to swim, Esme and I decided to change into dry clothes. When Esme was changing, I walked a bit around and took several more pictures of the Antigua river.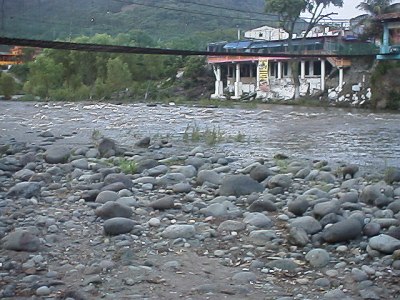 In the above picture the water is less smooth compared to the other side (downstream) of the bridge. The main bridge is behind me in the above photo.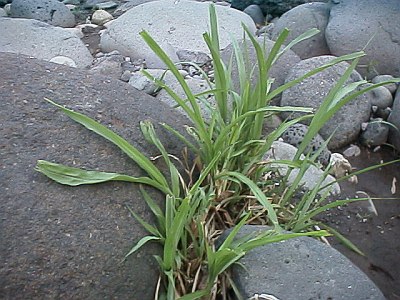 I went back to Esme and my mother, and changed into dry pants. Esme had forgotten to take a dry shirt for me and herself with her, so I still had a sticky shirt.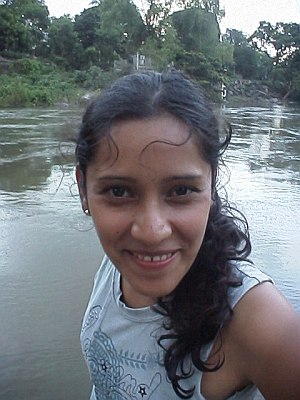 We decided to go back to Xalapa and were lucky, we had to wait just 15 minutes for the bus to arrive. Back in Coatepec the bus to Xalapa was about to leave but I was able to signal the bus driver and the bus stopped for us. Back in Xalapa we went to Chedraui, a supermarket, to buy food and drinks. Esme had decided to cook a nice meal for us. We also rented a DVD: Johnny English.
Chicken in orange sauce
Esme started to prepare the food: chicken in orange sauce. I helped her with making lemon water (for drinks). When I saw the slices of lemon I said that I would get some Corona, a well known Mexican kind of beer but as we already discovered, hard to get in Mexico. When I returned I joked that they only had "Mismo" beer (mismo is Spanish for same) but the joke was lost on Esme. So again, no Corona.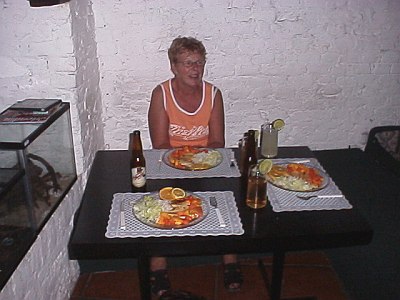 In the above picture two of my terrariums are visible. As you can see, my mom has no problem with sitting next to a Centruroides gracilis (scorpion) and a tarantula.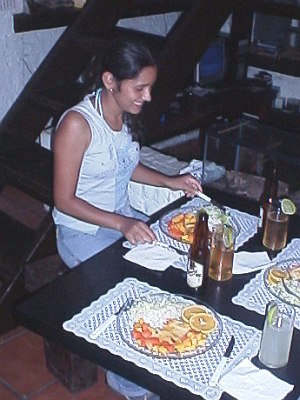 At the dinner table we talked again about the events of that day, especially how Esme flew over me and into the water, and the faces she made when the river dragged her away from the boat. My mom said that my brother never was going to believe that she had been white water rafting on a class 4 part of a river.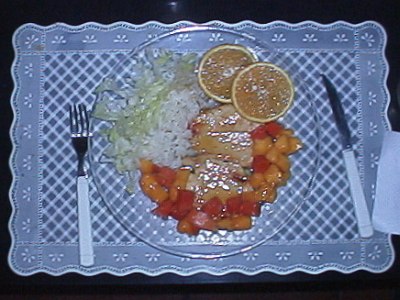 After an excellent dinner made by Esme, we enjoyed the DVD we hired, Johnny English, a James Bond 007 parody with Rowan Atkinson as the lead character. Esme was so tired that she fell asleep in the very beginning of the movie.
Related
Also today