A juvenile opossum in the kitchen
April 29, 2017
In the evening, while Esme and I were watching a movie, we suddenly both saw something moving from the corner of our eyes. Because it was still quite hot in the house we had left the front door open. And something large had just walked in and was beelining for the kitchen. Just like Milo in the Alex Delaware series by Jonathan Kellerman.
I closed the front door because I wanted to take a photo or two of our little intruder and above all keep an eye on its whereabouts. We didn't want to end up with neither of us having any idea if it went outside or was hiding elsewhere in our house.
Esme and I both went to the kitchen and carefully tried to get the opossum out of hiding. After some time it ended up behind the fridge, so I had to move the fridge out of place.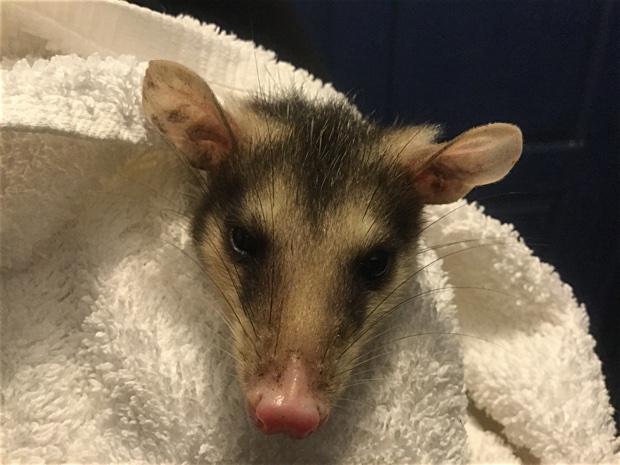 While I had closed the front door I had all forgotten about the door to our little balcony. In a very short time the opossum found this escape route and ended up on the balcony. I got on the balcony as well and using a bamboo stick carefully tried to move the animal back into the house. But after a few attempts the opossum got down from the balcony and walked into our backyard.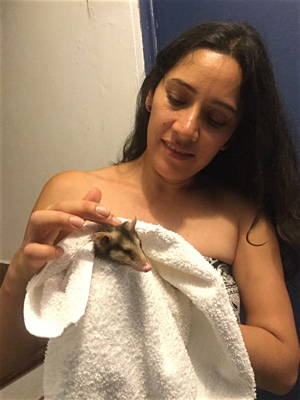 Our backyard is bordered by a house to the right and the left and has a fence covered in vines of three different passion fruit species (Passiflora sp). Behind the fence is a six meter drop into a garden with a dog. We didn't want our little visitor to end up there, so we decided to carefully catch the opossum and release it in front of our house.
Easier said than done. While the animal moved mostly very slow it refused to get into a plastic box I used to trap it. I had also grabbed a towel because I didn't want to risk getting bitten. After several attempts to trap it in the box Esme just reached out and picked the juvenile opossum up like it was a cat... and didn't get bitten.
For saftey I helped her to carefully wrap the animal inside the towel. After a few photos inside Esme released the animal in front of our house. When released the animal took several seconds before it started to walk away, sped up, and was gone.